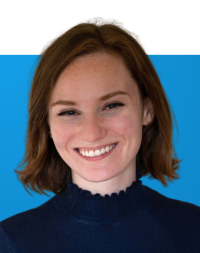 My passion for journalism and modes of knowledge production is rooted in my academic studies of the Middle East. While pursuing my master's degree, my primary research interest was political expression through the arts and literature in the Middle East and the social impacts of cultural output. Through these studies, I found that journalism and access to information are vitally important in the struggle against imperialism and authoritarianism. I'm excited to contribute to ICFJ's mission to support media freedom
In my role as a Program Assistant, I support a range of programs in the Middle East and Africa as well as transregional programs.
My background:          
I have a Master's in Arab Studies from Georgetown University's School of Foreign Service, and a Bachelor's in International Relations and Arabic from the University of St. Andrews. I am proficient in Arabic, having studied both Modern Standard Arabic and Levantine dialects in the US, the UK, and Lebanon. I also bring a strong background in non-profit programing and development built on my previous roles: Program Intern at ICFJ and Development Intern at Intuit: The Center for Intuitive and Outsider Arts in Chicago.
In addition to my work with ICFJ, I am an Assistant Editor for the academic journal Protest which focuses on social movements and activism across the globe.
Ask me about: 20th Century Middle East history, recent fiction, and cooking
My pronouns: she/her
Contact me: aferguson@icfj.org