María Gabriela Vega Gutierrez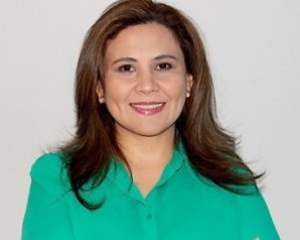 María Gabriela Vega Gutierrez was a 2015 Professional Fellow from Latin America with ICFJ.
María Gabriela Vega is a graduate of the Central American University (UCA) with a bachelor's degree in Social Communications, specializing in television. She earned her master's degree in Journalistic Direction and Editing from the Catholic Pontifical University of Chile.
At the beginning of her university studies, she had the opportunity to work in the most important communications media of Nicaragua: the Extravisión News Program and the Esta Semana Program. These were the first arenas in which Vega worked as a journalist, followed by Channel 2 Televicentro, where she covered social, economic, and political issues for 10 years. In addition, she was a news anchor for the program with the highest rating in the country, TVNoticias.
María Gabriela Vega has also directed television magazine shows and has worked in public relations in governmental institutions. In addition, she has shared her television journalist experience as a reporter and international news correspondent by teaching at the Central American University (UCA).
She worked as a news correspondent with the Telemundo network in 2000 and 2001, and returned to that network from 2009 to 2013. She was also the correspondent for the Estrella TV Channel's evening edition of the news on the East Coast of the United States.
Since 2013, she has worked as a freelance correspondent for the Univision network, a television network aimed at the Latino population in the United States, with coverage of approximately 93% of Latino households in the country.
In 2009, Vega initiated her project to create an audio-visual communications company, Zoom Comunicaciones, which offers news agency services for international news outlets throughout the Central American region such as Telemundo, Estrella TV, Caracol Internacional, and CB24 Noticias.
Zoom Comunicaciones also produces reports and documentaries on diverse issues: social topics, gender, youth, children and adolescents, environment, health, microfinance, culture, and entertainment for private businesses and non-governmental organizations. Clients include the World Bank, Oxfam, Habitar, Swiss Contact, Catholic Relief Services, Save the Children, the European Union, Kimberly Clark, Cargill, and others. The production of these documentaries has led her to work in other Central American countries and in the United States.