Vice President, Finance and Administration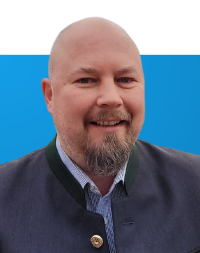 In my 20-plus years working for ICFJ, I have had the opportunity to get to know every aspect of how we work in fulfilling our mission, from program administration to field audits and financial oversight.
Since 2017, I've been responsible for all aspects of ICFJ's finance department, human resources and administration. Duties include financial transparency, internal controls, compliance, budgeting, financial reporting and strategic thinking.
My background: My career at ICFJ started with an internship, and has included programmatic leadership positions, such as program director, as well as financial positions such as controller and chief compliance officer. I have managed exchange programs between U.S. and German journalists, and designed, fundraised for and administered a similar fellowship program between U.S. And Austrian reporters. As part of my compliance role, I have conducted field audits in Africa and Asia.

I have a master's degree in political mass communication from Louisiana State University and a bachelor's degree in communications and international relations from East Carolina University. After shifting from program to finance departments at ICFJ, I earned an accounting certificate from Montgomery College, which allowed me to sit for a Certified Public Accountant examination, which I passed in 2021. I grew up in Austria, and German is my native tongue.

Ask me about: Financial management of a nonprofit organization, budgeting and especially golf

Contact me: mscherhaufer@icfj.org and on LinkedIn