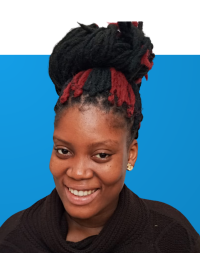 Since my childhood, I dreamed of being a journalist. There were too many questions to which I wanted answers: Why are so many people avoiding the news? Why is trust in the media declining?  What are journalists'  responsibility in this crisis? Why isn't African media profitable? 
Joining ICFJ as the moderator of the French-language Pamela Howard Forum on Global Crisis Reporting gives me the opportunity to coordinate digital events around these issues and challenges facing our world. I also edit webinar recordings, create graphics, run social media campaigns, and engage journalists in the Forum.
My background:
I graduated from The Van Duyse Entrepreneurial Leadership Institute in Benin in 2017. After graduating, the Institute recruited me to mentor junior students on topics including entrepreneurship, management, accounting and leadership. In 2016, I was shortlisted for the Etisalat Prize for Literature for my fiction novel about a young African girl struggling to succeed in a patriarchal society.
I kickstarted my career as a journalist at the news outlet, Africaweb, based in Lomé, Togo.
Ask me about: Writing, video editing and entrepreneurship
My pronouns: She/her
Contact me: saraveronique1995@gmail.com