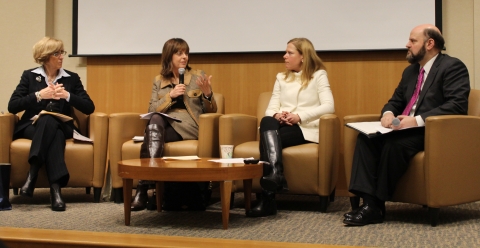 Despite high hopes for independent media after the Iron Curtain fell a quarter-century ago, the media environment has deteriorated in recent years throughout Central and Eastern Europe, according to a panel of experts who gathered in Washington this month.
The panel, hosted by the Center for International Media Assistance (CIMA), focused on trends in the region and lessons for sustaining independent media in the face of government pressures, shrinking donor support and the changing technological environment.
"What really stood out to me is just how much the business management objective in media declined," said Leon Morse, citing Bosnia, Bulgaria, Macedonia and Serbia, where press freedom has declined rapidly. Morse is the Managing Editor and Deputy Director for the Media Sustainability Index at the International Research and Exchange Board (IREX). He said declining management quality has been a result of the larger trend of increased control of media by governments in the region.
CIMA Senior Director Mark Nelson cited Poland, which had been the most impressive reformer in the region, as a prime example of the downward slide. Recently, the Polish government has taken control of its public service media and dissolved its independent governing commission, putting in political figures to run it.
Other speakers included Shannon Maguire, Media Advisor for the Europe and Eurasia Bureau at the U.S. Agency for International Development (USAID); and Vjollca Shtylla, Vice President for Development at the International Center for Journalists (ICFJ). The panel was moderated by Susan King, Dean of the School of Media and Journalism at the University of North Carolina Chapel Hill.
Shtylla said the decline in media fortunes in the region was linked to political and economic problems that followed the global recession.
"A weakened economy decimated the media's ability to sustain advertising," she said, noting that governments took advantage of the situation by buying up or shutting out local and independent broadcasting sources.
A Few Bright Spots
Despite the overall negative trends, the experts noted a few places in the region where improvements could be seen.
Morse said Georgia and Ukraine are improving after recent years of conflict. Both countries had falling media sustainability scores during their tumult, but have since made recoveries and are continuing on positive trends.
IREX has monitored media environments in the developing world through its Media Sustainability Index since 2001.
The best news has come from Moldova and Armenia, which have seen improvements since the global recession. The quality of journalism is better in Moldova, said Morse, and Armenia's media environment has improved because of increased institutional support from media associations.
Shtylla noted the success of investigative reporting and cross-border networks of journalists in the region. She added that since the fall of the Iron Curtain, "These journalists trained that were trained and came out of that time are still there, they are still in existence and are still doing amazing work." Shtylla also cited some of the major investigative stories they have reported like the horsemeat scandal in Europe and the Magnitsky scandal in Russia.
Advice for Navigating the Changing Media Environment
The panelists offered advice for media companies and donors on how to adapt to changes in the political, economic and technological environments.
"Look at where the information ecosystem is and where it is going," said Morse. Media organizations must embrace technology, like mobile and social media, if they wish to continue reaching their audiences. Shtylla said, "Most of this quality reporting in the region is found online, not in print or tv." However, she added that "In many countries there is no transparency in online media ownership." Online media is a disrupting force in today's media environment as many now look to their social networks for their news. The lack of transparency in news shared on social media and the potential for outside influence represent a major challenge for online reporting.
"Transparency is the new objectivity," said Maguire of USAID. She urged donors to increase their support of investigative journalism, which educates consumers on corruption and abuse of resources by public and private institutions.
Some other lessons highlighted by the speakers were:
Teach governments that independent media is not an adversary to be controlled, but a crucial element of democratic systems.
Educate citizens of all ages on media literacy and arm citizen journalists with the tools to start investigating.
Improve media sustainability by utilizing the latest technologies to reach a broader audience and bring back advertising dollars to struggling media organizations.
Recognize that media is often the last funded and the first cut when it comes to donor funding for Democracy & Governance programs. Donors must be willing to commit to long-term assistance and planned transitions to independent media sustainability.
For the full discussion, watch the video below:
Main image courtesy of Christian Madonna.