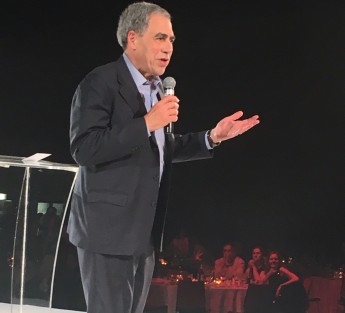 ICFJ board Chairman Michael Golden became president of WAN-IFRA Thursday at the organization's convention in Durban, South Africa, promising to help media organizations around the world deal with growing political and economic challenges.
Golden said that WAN-IFRA, or the World Association of Newspapers and News Publishers, would increase its commitment to fighting the growing attacks on journalists and media organizations around the world. He cited several countries where journalists are being jailed, attacked or even killed, and where media organizations are being shut down or coopted by governments.
"The list, unfortunately, gets longer not shorter. And now it's happening in the U.S.," said Golden, vice chairman of The New York Times Co. "When it comes to truth, we can put our money on Trump or we can put our money on our own media organizations. I know who I'm putting my money on."
He also cited the economic pressures on media organizations as the traditional business model for newspapers has fallen apart. Though the challenges for news publishers remain difficult, he said, "we are managing them well."
Golden cited the maxim of management consultant Peter Drucker and others: "The best way to predict the future is to invent it."
Read an interview with Michael Golden on the WAN-IFRA site here.