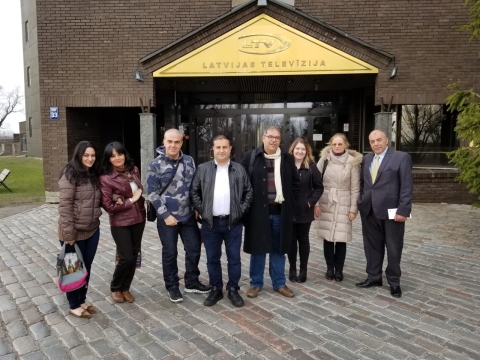 China's ambitious Belt and Road Initiative (BRI) has raised questions about the regional power's growing global influence. To date, more than 60 countries have either indicated interest in or signed on to projects under the project that promised to generate investment and employment in some of the world's poorest countries. Nearly twenty of the countries impacted are in South and Southeast Asia, many of which are at risk of debt distress because of lending practices under the initiative. 
The International Center for Journalists (ICFJ) will conduct an immersive 12-day study tour of affected South/Southeast Asian countries for 10 Arab journalists. During the tour, Arab journalists will participate in site visits, interviews with policy and economy experts, and meetings with media and civil society actors to deepen their understanding of the impact of China's economic influence in the region and the globe. 
About the Program 
Ten selected Arab journalists will spend five days in Indonesia, the Philippines, and Sri Lanka - countries where China has invested in major development projects that have sparked heated public debate. 
Modeled after the Study Tour for Arab Journalists, the program will include meetings with experts, lectures, site visits, and interviews, and immerse participants in complex topics such as business reporting, regional and international politics, regional trade and integration, public transportation and infrastructure. The program will immerse participants in a well-rounded understanding of the various factors that underlies China's ambitions in the region and beyond.  
The program aims to:
Highlight the role of civic engagement and the media in uncovering the social, political and economic impact of China's investment and development projects on local communities and the region;

Forge ties between Arab journalists and their peers in destination countries for future reporting and information-sharing on the complex cross-border economic and political issues underlying the Belt and Road Initiative.   

Develop a deeper understanding among Arab journalists and their audiences at home of the Belt and Road Initiative as part of China's global ambitions.
 The tour is sponsored by the United States Embassy Kuwait.
Program Dates:
3/26/2020 - 4/9/2020