Organization: Correio Braziliense
Country: Brazil
Ana Paula Lisboa is a sub-editor at the newspaper Correio Braziliense, producing and editing reports on education, childhood, career and the labor market. She was certified as a "Child Friendly Journalist" (title given by ANDI, News Agency for Child Rights), for her work in defense of the rights of children and adolescents in the media. Ana Paula has also been trained on executive leadership in early childhood development, offered through a partnership between Fundação Maria Cecilia Souto Vidigal and Harvard University.
Freelance
Country: Canada
Carolyn Thompson is a Canadian data journalist based in Nairobi, Kenya. She reports primarily on human rights, politics and migration. Her work has appeared on CBC, France 24, the Washington Post, among others. She also works on open source investigative projects and as a media trainer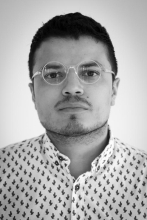 Organization: School of Data 
Country: Guatemala
Daniel Villatoro García works as a trainer in data journalism and digital narratives for SocialTIC (Mexico) and oversees content for Escuela de Datos, part of the global School of Data network. He also works as a freelance reporter and as a consultant for digital projects. He graduated from communication studies in 2015 and is currently pursuing a master's degree in political science with a focus in justice and security reporting. He worked in Plaza Publica (Guatemala) for seven years, specializing in data journalism and investigative reporting. He has worked for media such as Radio Ambulante (New York), El Faro (El Salvador), Travesias Media (Mexico) and Convoca (Peru). His work has been recognized with the "TRACE Prize for Investigative Reporting" and an award from the Inter American Press Association Award. His areas of expertise are illicit political financing, corruptions networks, and gender and LGBTQ issues. He is interested in disruptive narratives and combining multimedia content for a better engagement with audiences.
Freelance
Country: Brazil
Hyury Potter was born in Pará, a federal state located in the Amazon region of northern Brazil. In 2010 he moved to Santa Catarina a state located in the southern part of Brazil. Hyury focus on writing stories about political corruption, environment and human rights. In 2018 he worked for 6 months at the Deutsche Welle in Bonn, Germany covering the presidential elections of  Brazil. He is currently working as a freelancer for ​Deutsche Welle Brazil​ and ​The  Intercept​. 
Organization: Radio Renascença
Country: Portugal
Rui Barros is a data journalist at Rádio Renascença, one of the oldest radio stations in Portugal. He works with a variety of data projects using codes and databases to build interactive features and get new data-driven stories. At Rádio Renascença he oversees all the stages of the data journalism workflow such as data gathering, cleaning, analysis and visualization. Currently, he is finishing a master thesis on the process of innovation inside a newsroom.
Program Dates:
6/1/2019 - 3/31/2020