IJNet Arabic Editor, Community Manager (Arabic) and Program Consultant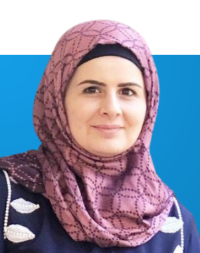 At the beginning of my career in journalism, I knew only what was apparent — success stories, people under the spotlight, and unintelligible noise. After years of working with several institutions, I discovered this field's true mission: to shed light on society and people behind the spotlight, to pay attention to inclusion, diversity, equity and credibility, to give voice and light to those who deserve it, to the underrepresented, the marginalized, the refugees and people with special needs and, most important to me, women — especially in the Middle East.
I have a passion for knowledge and learning new things. This is what journalism achieves, presenting new opportunities and tools on a daily basis. This is what ICFJ and IJNet provide in the dynamic digital age. They help journalists acquire new skills, identify opportunities and develop journalism by connecting it with technology.
As the IJNet Arabic Mentoring Center Program Manager, I work closely with media entrepreneurs in MENA to help them navigate the countless crises and challenges in the Arab world. We light a candle in the daily darkness in this weakened region, offering a glimmer of hope.
My background: I am a Lebanese journalist with 10 years of experience. I have two degrees — in law and political sciences, as well as in linguistics, and I am currently a Ph.D student in linguistics and communication in the Lebanese University. 
Alongside my studies, I work as the IJNet Arabic Editor and Mentoring Center Program Manager. Prior to this, I was the IJNet Arabic Translator. I have worked on a variety of ICFJ programs, as well, and translated various research, surveys and more. 
My background lies in research, writing, translating, social media, and fact-checking. I also have experience managing teams, and coordinating with fellow media organizations, funders and more. 
Ask me about: Experts from the MENA region, entrepreneurial journalism, writing, translation, completing work on time with internet and electricity cuts in Lebanon, raising two toddlers
My pronouns: She/her
Contact me: sarahabdallah.leb@gmail.com and on LinkedIn