Future of News: On the Road to Recovery?
FT Future of News digital summit
Thursday, June 10, 2021
 2:50 AM - 12:20 PM ET / 06:50 AM - 05:20 PM GMT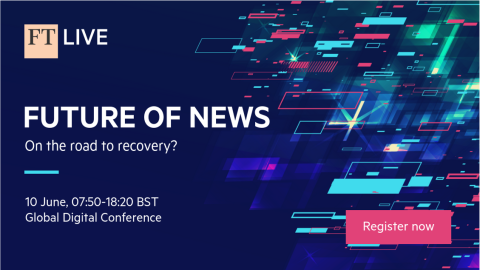 A pandemic, a recession, Brexit and a tumultuous farewell to Trump. The last year has contained a decade's worth of news, colored by our increased reliance on the digital world for connection.

In Europe, a shrinking economy is posing further obstacles to the already fragmented print, broadcast and digital industries. A fall in advertising, accelerated by lockdowns, has prompted executives and funders to look more carefully at subscriber-centric models while seeking new digital revenue sources.

Regulators, in the meantime, are trying to find fair ways to contain the dominance of large technology companies, which could have an impact on how news is disseminated.

Whose responsibility is it to keep the public accurately informed? What will entice people to pay for news? How can we ensure that bold moves governing free expression now do not have unintended consequences later? 
Key Themes
How will the news industry stay in business, and find new revenue to support quality reporting?
Should regulators enforce a level playing field between news providers and tech platforms, and will interventions on free expression help or hurt society?
What will entice readers to pay for news?​