Priyanka Dubey Accepts the Knight International Journalism Award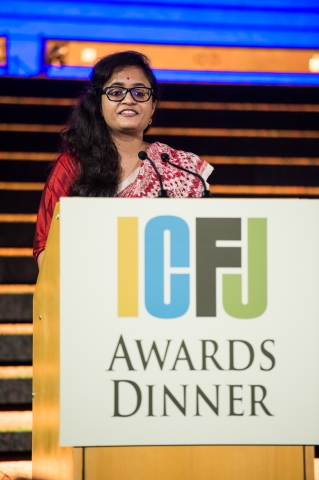 If there is any one thought going through my mind right now as I stand before you tonight, it is a deep sense of added responsibility towards my work and gratitude towards everyone who has been part of this journey. I am immensely thankful to the International Center for Journalists for selecting my work for this prestigious award. Thank you, ICFJ! Also, I want to congratulate my three fellow journalists who are being awarded tonight, and thank them for inspiring me by their phenomenal work.
This recognition reconfirms my faith in the huge importance of reporting on women and children issues, which have otherwise been largely ignored in my country. It's sad that we as human beings have become accustomed to witnessing multiple kinds of violence being committed every day against women and children. One of my biggest battles has always been to bring these issues to the center stage in Indian newsrooms. This award helps me in that fight. It gives a second life to my stories on child trafficking, violence against women, gender discrimination and child abuse. It takes the issues I have been working on for years now, forward to an international level.
Today as I stand here, all my stories are flashing in front of my eyes. So is the journey behind reporting each one of them. Looking back, I think my determination for doing these stories and my utter conviction in the urgency of doing in-depth reportage on women and children always overpowered the fears and risks that I encountered.
As a child, I helped my mother raise my two younger brothers. Soon after they learned to walk, they would often go missing from home and I would run around our neighborhood, looking for them. I remember panicking and crying whenever they went missing for more than 15 minutes. Though I brought them home each time, that sinking feeling I associated with a 'missing child' never left me after that. And knowing the whole process of abducting and trafficking children always kills something inside me. These children are abused, used as domestic maids, forced into organized crimes, prostitution and even slavery. So whenever I get a lead, I automatically do everything I can to investigate and report violations of child rights. For me, there is no choice but to do the stories that I do.
My work on crime against women stems from my living conditions in India. The intensity of everyday discrimination against women in India and the level of crimes committed against them are outrageous. For me, again, there is no choice but to use my reporting to raise the loudest possible voice against this discrimination and patriarchal mindset. I do stories that speak for defenseless people who are pushed to the fringes of Indian democracy because, in my heart, I belong to them and so does my voice.
As I move forward in this journey, my faith in the power of a good story has only increased. The process may take time, but everyday journalism is bringing positive change in the lives of people around the globe. In today's hyper-reactionary, polarized, social media-driven world, the importance of independent public interest journalism is greater than ever, especially in the Indian context, where the space for dissent is continuously shrinking.
These are indeed dark times in India. Top Indian writers are returning the highest national literary honors in protest against the rise of Hindu fascist forces in the country. We are witnessing ongoing attacks on journalists and human rights activists … and shocking new levels of moral repression against women are creeping into media reportage. I strongly feel that in difficult times such as these, only independent journalistic voices with a spine and a sense of fearless moral integrity can help us restore constitutional values and the type of secular, democratic India in which I have always believed.
I would never have reached this stage without the sense of belonging that my family gives me. If there is any fleeting element of stability in my otherwise chaotic life, it's because of my parents. My mother's love has helped me retain my sanity while reporting some of the cruelest human crimes.
I want to sincerely thank all the stringers and local reporters who have worked with me with equal courage and bravery. Also, I want to thank all my present and former editors for giving me the space and freedom to do the stories that I did. I am grateful to my colleagues, friends, teachers and mentors back in India for their love and encouragement. And a special thanks to the small Swami Vivekananda Library in my native city Bhopal for being the game-changer of my life.
Once again, I want to express my sincere thanks to ICFJ for this encouraging and inspiring evening. This award is a huge motivation and will surely help me carry on my work with more enthusiasm and determination.
I want to dedicate this award to the courageous and resilient survivors of violence and trafficking who have shared their stories with me over the years. I hope that, like them, I never lose the desire to seek justice through my work.
Thank you!