Co-founder and Executive Director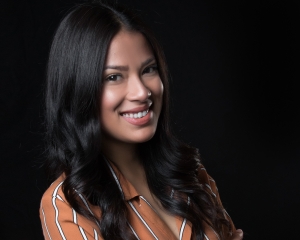 Cindy Regidor is a 2019 Professional Fellow from Latin America with  ICFJ.
Cindy Regidor is a Nicaraguan journalist and entrepreneur. She has more than ten years of experience in print, broadcast and digital journalism. Currently she works as a correspondent for France 24 Spanish in Costa Rica, a reporter for Confidencial in Nicaragua, and manages her media company, INDI Media. Previously, she has worked as a reporter for her country's largest newspaper La Prensa, and as a presenter for the top-rated morning program. She has ample experience as producer, news anchor, reporter, and editor having collaborated with many prestigious media outlets in Central America. 
 Her company develops media content with a human rights and peace focus. She has worked on digital media campaigns regarding LGBTQ issues, democracy, voter mobilization and immigration. She has covered and produced content related to presidential elections, abortion rights, the Nicaraguan political crisis of 2018 amongst many other topics. She has conducted and coordinated interviews with current and former heads of states including Oscar Arias, Carlos Alvarado, and Daniel Ortega. She holds a Master's in Media, Peace and Conflict Studies from the United Nations University for Peace and a bachelor's degree in Social Communications with an audiovisual production specialization. 
She is a board member of Fundación Igualitxs, the Latin American Foundation for the Promotion and Protection of LGBTQ rights and member of Global Shapers, a network of young leaders and activists created by the World Economic Forum. She is a Spanish native speaker and speaks fluent English.