Founder and Executive Editor, Rappler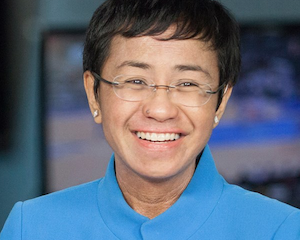 2018 Knight International Journalism Award winner Maria Ressa is a crusading editor and digital trailblazer in the Philippines, where her popular news site has held a spotlight on the policies of President Rodrigo Duterte and his government's brutal war on drugs.
As founder and executive editor of Rappler, Ressa has been at the forefront of both investigative journalism and media innovation. Rappler was among the first in the country to use social media and crowdsourcing for news distribution. Ressa also sounded an early alarm about the use of trolls and social media bots to distort the truth and disseminate false news.
As a news platform, Rappler has persistently shed light on Duterte's harsh policies. It reported that under Duterte nearly 8,000 Filipinos have been victims of extrajudicial killings at the hands of security forces. In response to the reports, Duterte and his government have targeted Rappler, making it a major focus of its attack on press freedom.
Ressa is now fighting the government's move to revoke Rappler's license and thus silence it on grounds that the site is owned by foreigners, a charge Ressa calls ridiculous. The case has reached the country's Supreme Court.
A journalist for nearly three decades, Ressa spent most of her career at CNN as bureau chief in Manila (1987-1995) and then Jakarta (1995-2005). She was CNN's lead investigative reporter covering terrorism in Southeast Asia. In 2005, she became head of news and current affairs at ABS-CBN, managing more than 1,000 journalists at the largest multi-platform news operation in the Philippines. She held the position for six years before launching Rappler in 2012.
A ground-breaking digital news service, Rappler is also known for innovative public service journalism. In 2013, when more than 6,000 Filipinos perished in a typhoon, Rappler set up internet access points for survivors to get vital news and information.
Ressa has taught courses in politics and the press in Southeast Asia for her alma mater, Princeton University, and in broadcast journalism for the University of the Philippines. She is the author of two books: Seeds of Terror: An Eyewitness Account of al-Qaeda's Newest Center of Operations in Southeast, which was published in 2003, and From Bin Laden to Facebook. In November 2017 she received the National Democratic Institute's 2017 Democracy Award.