News Reporter and Producer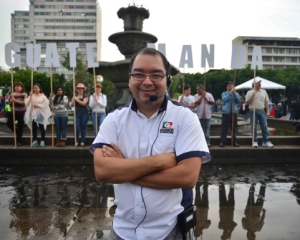 Otto Nery Angel Estrada was a 2015 Professional Fellow from Latin America with ICFJ. 
Otto Angel was born in Guatemala City in 1981. He is married with one beautiful newborn that is six months old. He has worked as a journalist in radio (Radio Punto, since May 2002), newspaper (Siglo 21, from 2003-2008) and television (Guatevisión, since March 2008). In Guatevisión he works as a news reporter, producer, and now shares responsibilities as Editor-in-chief, Social Networks and Web editor, and Anchor/Producer of his own show "Las Inolvidables," a satiric show about Guatemalan politics. His duties include coverage of the White House, the UN, and presidential summits in México, USA, China's Republic in Taiwan, El Salvador, Honduras, Nicaragua and Costa Rica.
As a producer he works on the Guatevisión Morning Show, "Viva La Mañana." Additionally, in 2010 he started a news satire segment titled "Inolvidables Guate," with his colleague Ben Kei Chin to create a YouTube Channel (www.youtube.com/inolvidablesguate) that has reached 19,531 subscriptions and a Facebook profile (www.facebook.com/inolvidablesguate) with 21,500 likes. In June 2014, he was assigned to manage Guatevisión's Facebook accounts with the mission of increasing its amount of Facebook likes. The statistics show a very significant growth, and the account that started with 222,000 likes (10th in Guatemala) now has 820,000 likes (3rd in Guatemala). The success in social mediaalso benefits the channel´s website: www.guatevision.com. According to 'alexa.com,' on January 15th Guatevisión was ranked in the 500,000s, but by July 15 Guatevisión was ranked 10,060th.