Arthur O. Sulzberger Jr. Accepts the 2018 Founders Award for Excellence in Journalism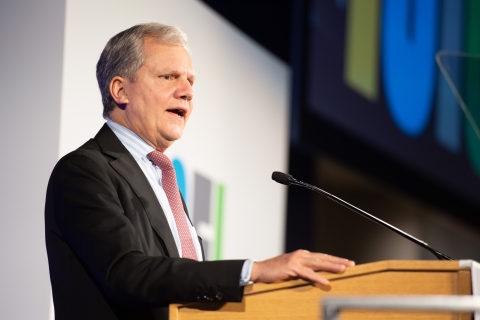 Thank you, Richard, for that exceedingly kind introduction. The video you saw has taken about two-thirds of my remarks out, so we'll be able to make this a faster evening. I want to thank everyone here at ICFJ for this honor, especially Joyce, who is so ably leading this organization through a period of great need. And I want to congratulate all of tonight's winners. It's been an honor to be part of this evening. I'm afraid I will not be as witty as they will be.
And I also want to express my gratitude to my cousin Michael Golden, the former vice chairman of The New York Times Company, who was such an important partner to me during my time as publisher. I'm sorry Michael could not be here with us tonight.
It's wonderful to be with so many friends and so many colleagues and so much family, but I recognize where I am. The most dangerous place in the world is between a journalist and the bar, and I know that I'm all that stands between you and the Moonlight Reception, so let me move quickly.
Getting an award like this helps you step back and reflect on the life you've lived and the purpose you've served. In this moment of profound national difficulty and global tumult, I am immensely proud to have spent my career at The New York Times, to have led this institution that is so dedicated to independent, original journalism, reported without fear or favor.
That mission, as was noted earlier, was handed down from my great-grandfather, and it speaks to what I believe is the highest and noblest role of the free press: holding power to account, which is what so many of you in this room do, and God bless you for that work. I think that's been something that's been going on for many years, many decades, but it's more critical than ever to remember this today. 
Around the world, powerful forces are sowing seeds of distrust in the news media. Just yesterday, the White House revoked Jim Acosta's press credentials in retaliation for him doing his job. This is both troubling and chilling. As The Times said in an editorial published today, "What is most alarming…is the extent of Mr. Trump's ignorance of the role of a free press in American tradition and democracy." That ignorance reverberates from the Oval Office to China, Brazil, Saudi Arabia, and beyond.
My son and successor as publisher, A.G., warned President Trump this summer that his inflammatory language is contributing to a rise in threats against journalists and will inevitably lead to violence. Tragically, A.G.'s warning proved prescient. 
I had conveyed a similar meaning to the President two years ago, shortly after the election.
On November 22nd, 2016, I arranged for then-President-elect Trump to come to The Times for his first on-the-record interview after a somewhat unexpected victory.
The day began inauspiciously. At 6:16 that morning, Trump announced on Twitter that he was canceling his interview with, quote, the "failing New York Times." After hours of back-and-forth with some of his colleagues, at 10:40 he re-tweeted that the interview was back on.
By the time the afternoon was over, he had, in our boardroom, sat there praising The New York Times as "a great, great American jewel."
It was a dizzying day.
Let me tell you a story about that day: Just prior to sitting down with our journalists, I met one-on-one with the President-elect, not an unusual position for a publisher, mostly he wanted to complain about our coverage. As I walked him into our boardroom where our reporters and editors were waiting to ask the tough questions, that is their day job, I said: Mr. Trump, you're going to notice many, many signed photos on the wall of our boardroom including autographed photos of every president since Teddy Roosevelt.
And I said I look forward to having yours (which, by the way, we do have now). But I want to draw your attention to one in particular, not because of the photo, but because of what he wrote:
"To The New York Times: Some read it and like it. Some read it and don't like it. But everybody reads it."
Signed by: Richard M. Nixon
I said: Mr. Trump, that was the last president who took on a free press. Think how it ended for him. 
Sadly, I can't say whether my message, or my son's message this June, registered with the President. But I can say that The New York Times has continued to seek the truth and hold power to account undeterred by the President's anti-press invectiveness.
We've continued to invest in a very challenging time in original time-consuming journalism. This is the core of the mission of The New York Times. Just consider one: our major investigation into the Trump family finances. That single story took 18 months, three veteran investigative reporters with expertise in finance and taxes, 100,000 pages of documents and a battalion of editors and lawyers to make sure every word was bullet-proof. As costly as that may be, we'll continue to invest in that kind of reporting because that's exactly what this moment demands. 
As everyone here knows, the advertising-based business model that sustained American journalism for generations has collapsed, not just in print but also increasingly in digital. As my son recently sadly pointed out, the number of newspaper journalists in this country has declined faster than the number of coal miners.
This is the challenge we face. But one of the great lessons I learned in my time as publisher is that people increasingly crave quality journalism. If you make something worth paying for, people will open their pockets to subscribe.
And, as it has been noted, they are indeed subscribing quite vigorously. Today, The Times has 4 million print and digital subscriptions — more than ever before, and more than any American newspaper has ever had, even in the golden age of print journalism.
We've expanded nationally, and as it was also noted, we've expanded internationally. We now have subscriptions in every country in the world. I am trying to think...We may not have many in Antarctica, but we actually have some in North Korea.
This global reach comes at a critical time. A free press that's independent of the government is a lynch pin of any well-functioning society, as has been noted time and again this evening.
But it's still a challenge. To offer one stark example from here in the U.S., today 72 percent of Republicans say they'd rather get their news directly from President Trump's Twitter account — that is, from what is essentially state media — than from the independent press. That's scary. And it has profound consequences.
When autocratic rulers around the world see the president of the United States demean and attack reporters, they take note. They sense that the kind of harsh anti-press measures that in the past would have prompted a strong American response may no longer provoke retaliation, or even condemnation. We have seen the effect of that all around the world, and of course we have seen it here in our country: those four journalists who were among those killed at The Capital-Gazette in Annapolis earlier this year by a man angry about the coverage.
In the face of these attacks, it's up to all of us in this room to fight for the free press. It's not our job to be the voice of the resistance. But it is our job is to report the facts, to stand tall in defense of "truth and trust," as my eloquent colleague Tom Friedman said in a Times column earlier this year, and in defense of our profession's responsibility to hold power to account.
We must continue to report. We must continue to tell truths. We must continue to do our work, no matter the obstacles we face. And we have to remember that we are all in this together.
Looking out at all of you in this room, especially those reporters who have been honored tonight, I'm filled with confidence and I'm filled with hope: confidence that you'll continue to fulfill our profession's noble purpose, and hope that the truth will win out and tomorrow will be brighter than today.
Thank you so much for this tremendous honor.