Bosnian Journalist Salutes "Nameless Colleagues" Facing Tremendous Risks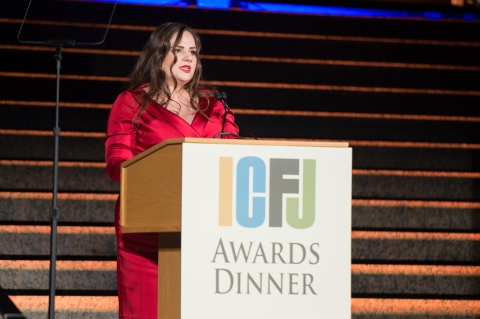 By Jerri Eddings
Miranda Patrucic, a crusading Bosnian journalist in Washington to accept ICFJ's prestigious Knight International Journalism Award, singled out the huge sacrifices her colleagues make to speak truth to power. Working with reporters, editors and researchers from around the former Soviet bloc, Patrucic has uncovered financial crimes and corruption among elites in Eastern Europe and Central Asia as part of the Sarajevo-based Organized Crime and Corruption Reporting Project.
She noted that her colleagues contribute "their skills, their heart and soul at the risk of their happiness, freedom and even life," she said. "I am here, but there are many more who must remain invisible, because they and their family members face arrest."
She said she felt "sick to her stomach" when she previously worked for the BBC to reform the Bosnian Public Broadcasting System. "I peered into the heart of the Bosnian media and saw corruption, political influence and a deformed kind of journalism," she said.
But the situation was worse elsewhere. "I never truly understood greed, grand corruption, organized crime, and governmental abuse, until I started working in Montenegro, Azerbaijan, Uzbekistan," said Patrucic. "These regimes frivolously imprison, abuse, extort, threaten, torture and even kill reporters who dare to challenge them. My colleagues face these risks every day."
Patrucic played a key role in the "Khadija Project," named for her friend and colleague Khadija Ismayilova, who was imprisoned in Azerbaijan by the Aliyev government because of her news reports. Following Ismayilova's arrest in late 2014, her colleagues banded together to continue her reporting on corruption among Azerbaijan's elites. Ismayilova was released from prison in May 2016 and credits their work for helping to secure her release.
Patrucic dedicated her award to the many reporters who must remain anonymous for fear of harsh reprisals from powerful people whose conduct they expose. "My friends, I dedicate this award to you," she said. "You deserve it as much as I."