Jailed for Reporting: Guatemalan Authorities Target Leading Journalist
José Rubén Zamora is one of Central America's most celebrated journalists. For decades, as the founder and president of elPeriódico, Zamora has bravely and relentlessly unearthed corruption at the highest levels of power. Today, this past winner of the ICFJ Knight International Journalism Award is behind bars in Guatemala. 

Authorities arrested Zamora on trumped up charges, raided his home and newsroom, threatened his family and ordered his publication's bank accounts frozen – all moves designed to silence reporting on the administration of President Alejandro Giammattei.

His arrest has prompted an outcry from defenders of press freedom and democracy inside and outside Guatemala, a country facing democratic backsliding in a region where this is a worrisome trend.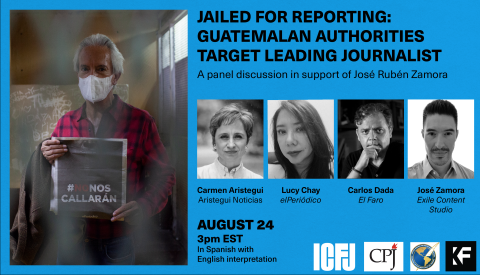 Join us on Aug. 24 at 3 pm EDT for a virtual discussion on Zamora's case, attacks on press freedom across Central America, and what can be done to help Zamora as well as elPeriódico journalists who continue to publish despite the risks. This event is organized by the International Center for Journalists in partnership with the Committee to Protect Journalists (CPJ), the John S. and James L. Knight Foundation and the Inter American Press Association (IAPA).

Moderator: Carmen Aristegui, Director and Host, Aristegui Noticias

Panelists:
Lucy Chay, Deputy Editor, elPeriódico
Carlos Dada, Director, El Faro, El Salvador
José Zamora, Chief Communications and Impact Officer, Exile Content Studio, (son of José Rubén Zamora)

Opening Remarks: Patrick Butler, Senior Vice President of Content and Community, ICFJ
Closing Remarks: Carlos Jornet, President of the Press Freedom and Information Committee of the Inter American Press Association

Note: This event will be in Spanish with live English translation.

 
Event Date/Location
August 24, 2022 3:00pm - August 24, 2022 4:00pm