Carmen Aristegui Accepts the Knight International Journalism Award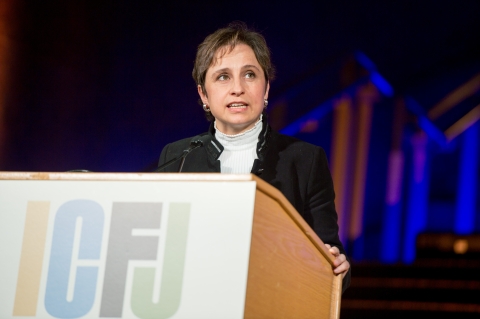 Good evening.
Thank you for being here in this celebration dedicated to journalism, the news and freedom of expression. Thank you for such an important and respected recognition as the Knight International Journalism Award.
We are living in a historic and wrenching moment, full of enormous challenges. The triumph of Donald Trump has left us shaken. We are still in a state of shock.
In Mexico, we know that if he carries out what he promised in the campaign, it will be catastrophic for us. Between the stupid wall, the economic reprisals and the threatened activation of the army if we refuse to pay for the wall, millions of people could suffer enormously.
Trump has unleashed the worst hatred and has given force to racism and xenophobia. He has opened the door to the worst demons. That is why the world is so frightened, and why we must use the tools of democracy and human rights to face the time that is approaching.
Sadly, the Mexican government does not have the strength to stand up to this enormous challenge from someone who has called us rapists, swindlers and criminals.
Today, more than ever, we must exercise a free, critical and independent journalism. Today, more than ever, we must make our freedoms count.
In many parts of Mexico, an inconvenient journalist can be silenced--even murdered-- and almost nothing will happen. If the journalist has a certain public presence, he or she can be persecuted with lawsuits whose goal is not to obtain justice, but rather to take revenge for what we print.
I fear that this is my case.
Before arriving in Washington, I got word of the first judgment against me in one of several cases brought by the same powers who censored us and threw us out of Mexican radio.
A judge charged me with "excessive use of freedom of expression and of information" for what I wrote in the prologue to the book "The White House of Peña Nieto."
The Knight Award encourages our work, stimulates us, pushes us to keep going. We see this prize as a powerful message for Mexico and for the world: A message that says no to censorship, yes to free expression and yes to the right of the people to be informed.
One of my country's most renowned heroes, Belisario Domínguez, raised his voice against the traitor who assassinated our democratically elected president and usurped his power. For that, Dominguez was detained, tortured, killed and -- it is said -- had his tongue cut out.
The murder of this great man has become the symbol of an authoritarian and intolerant power that does not accept criticism. One hundred years later, Mexico is still fighting its ghosts. Metaphorically, leaders and powerful people continue cutting out tongues.
Our country is considered the most dangerous one to practice journalism in all of the Americas. Since 2010, one out of every three journalists killed in the hemisphere was Mexican. That explains the widespread phenomenon of self-censorship.
Mexico will never be a true democracy if bodies are buried by the thousands and nothing happens, if journalists are censored or killed and nothing happens, if millions are stolen from public funds and nothing happens.
For Mexico to escape from this profound crisis in human rights and political rot, we must speak out in a loud voice, report widely, provide oxygen for the public debate, and shake Mexican society. We must have free and independent journalism.
Tonight let us celebrate journalism. Let us celebrate what Gabriel García Márquez christened as the "greatest job in the world."
In this time of efforts to hide the truth, of authoritarian backsliding, of intolerance and incitement to hate -- in this time of Donald Trump -- let us celebrate journalism and defend our freedoms.
I want to dedicate this award to my colleagues at Aristegui Noticias; and to my colleagues whose murders remain unpunished: Julio Scherer, Miguel Ángel Granados Chapa, Enrique Maza and Vicente Leñero, the great masters who have left us.
To the magazine Proceso for its 40 years.
To my friends and colleagues at CNN.
To Mexico and my son Emilio, for all that you are and all that you stand for.
To all, thank you and congratulations… a warm hug to everyone.