CNN's Clarissa Ward Warns Journalists Against Selective Listening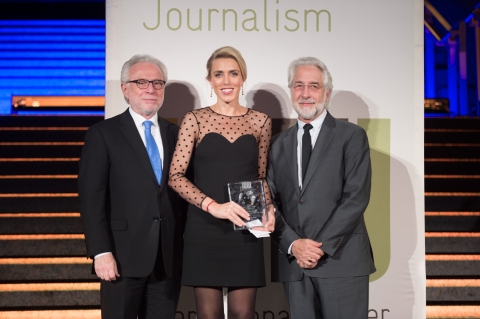 By Jerri Eddings
CNN senior international correspondent Clarissa Ward, who has covered Islamic terrorists as well as victims of war, said journalists must listen to all voices, even those they don't want to hear, to get the story.
Accepting the ICFJ Excellence in International Reporting Award, Ward urged journalists not to be selective in choosing people to interview. "We have to listen to voices we don't want to hear," she said. "And just the same as I want to tell the story of the mother who lost her daughter to a barrel bomb in Syria, I also have to listen to the extremist ISIS supporter in Europe who won't shake my hand."
She added, "We live in a world that is getting smaller by the day but which is also becoming more divisive in many ways. Tectonic shifts are taking place all around us. Luckily, for us as journalists, we don't have to sort out all the world's problems; we just have to listen to them."
Ward paid tribute to another award winner, broadcast legend Charlie Rose, who was her mentor at CBS before she moved to CNN.
"I would watch his interviews and study his mannerisms and read his scripts, and tried to work out what it was that made him so great," she said. "And the simplicity of Charlie's brilliance is the greatest lesson we can all learn as journalists: Be curious, be in the moment and listen."