Maria Ressa Accepts the 2018 Knight International Journalism Award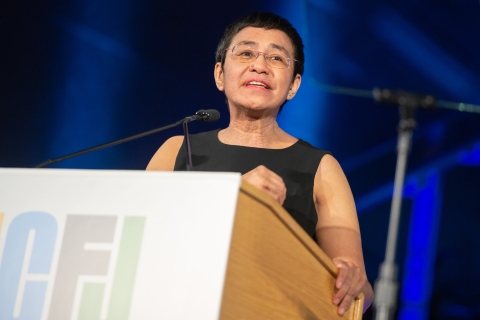 Thank you for recognizing our work at Rappler. It comes at a crucial time when our organization and Philippine democracy are struggling to survive.
We've written a lot about our two battle fronts: a brutal drug war, tens of thousands killed; and, the exponential lies on social media to incite hate and stifle free speech.
We battle impunity from the Philippine government and from Facebook. Both seed violence, fear, and lies that poison our democracy.
Those lies on social media form the basis of the government's many legal cases against us.
In January this year, they tried to shut us down, alleging we're foreign owned (we're not), that we're tax evaders (well, they charged us that about six months after the tax agency gave us an award for being a top corporate tax payer), along with other ridiculous charges. I've run out of synonyms for the word "ridiculous."
Why should you care? Aside from the fact that you are my friends, our problems are fast becoming your problems. Boundaries around the world have collapsed, and we can begin to see a kind of global playbook. When President Trump banned Jim Acosta last night, he followed President Duterte's actions against our reporter Pia Ranada and me. I haven't reported, but I'm banned from the Palace from early this year.
When Trump called CNN and the New York Times fake news, a week later, Duterte called Rappler fake news.
Power corrupts… coerces… and co-opts.
I feel this deeply because I run a business, and while numbers are important (and we must survive), we need to find a business model that sustains journalism. I know that I, and the people of Rappler, have made really bad business decisions because we protect the public interest - the mission that is at the heart of why I became a journalist in the first place. I won't betray that.
In my country now, good investigative journalism is bad business. And it comes at a time when the business model of our global industry is crumbling.
In 2017, 90% of new digital ad spend went to Google and Facebook. Now the social media tech giants are the world's largest distributor of news. Yet, they shy away from the responsibilities that come with that – and that has global impact: allowing authoritarian-style leaders to use their platforms to cripple trust, remold truth, and consolidate their power.
This has been a very, very humbling year for me. It has challenged everything I believed. I come out of it with three appeals for the future:
To the men and women who work in governments like mine using a scorched earth policy to grow power, appealing to the worst of human nature. You have the power to stop the erosion of democracy and maintain the rule of law. Your silence means consent. Don't let your ambition, or your fear, cripple the values of our next generation.
 
To social media platforms: your business model has divided societies and weakened democracies. Personalization says my reality is different from yours...but all of these realities have to co-exist in the public sphere. You can't tear us apart to the point that we don't agree on the facts. Why should you allow lies to spread? Yes, it's a great responsibility, but this is not a matter of free speech. It's a gate-keeping role once wielded by human journalists. As we've seen time and again, online hate leads to real world violence. Consider making the same tough business decisions our little company made to protect the public sphere and to ensure democracy survives.
 
To the journalists and activists who continue to fight: we have to stay the course. Sometimes, people say you're naïve nor foolish. People say that about us. We're not. These times require that. Without hope, we have no energy to move forward. We have to take the long view, work together and know we are not alone. This is a global battle.
Despite the reporting I've done in war zones and conflict areas, I've always believed in the goodness of human nature. I think we are basically good. That has never been tested as much as it is today. But it's one of my fundamental values – a choice to find hope for a better future.
That was why we created Rappler. To our shareholders in Manila, the people who invested, the Filipino shareholders, Marcus Brauchli of North Base Media and the Omidyar Network, thank you for believing in our vision of an innovative, free and independent media.
These times force us to define exactly who we are, what values we live by, and what lines we will not cross... nor allow others to cross.
Thank you, the people in this room, the International Center for Journalists and the Knight Foundation, for supporting international journalism, for recognizing our work, for renewing the hope is what powers our reporting and keeps us going.
Finally, to my team in Manila, this is yours. For every story that holds power to account, for every day we survive and grow, for every time we avoid cynicism.
We are Rappler, and we will hold the line.