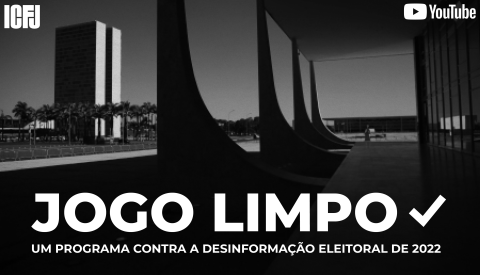 Teams from six news organizations have been selected to receive funds and mentorship for projects that combat misinformation in the lead up to Brazil's October elections. The projects are part of Jogo Limpo ("Fair Game"), an initiative run by the International Center for Journalists and supported by YouTube Brazil.
One team will develop a bot that scans YouTube videos for potential misinformation and shares the timestamps on Twitter for journalists and others to see. Another is building a transcription service that will help journalists, free of charge, more efficiently fact-check and analyze  candidates' speeches. Another will teach young Brazilians, through video tutorials and in partnership with influencers, how to use open-source intelligence technology to fact-check. 
Jogo Limpo will provide up to $25,000 per project  as well as three months of expert mentorship. The mentor will guide awardees from day one, helping the teams move quickly and achieve  impact.
More than 160 applications were submitted to Jogo Limpo between April 25 and May 18. An ICFJ team of four specialists reviewed the projects for innovation and creativity, and external judges chose the winners. 
"One of the greatest challenges of our time is to face disinformation," said Silvana Bahia,  a judge and co-executive director of Olabi and coordinator of PretaLab. "Encouraging and empowering the Brazilian media ecosystem by encouraging the work of journalists is on the agenda, especially in an election year. That is why initiatives such as 'Jogo Limpo' are extremely relevant to society, because they inspire and foster a practice of communication based on ethics and citizen values."
Learn more about the selected projects:
Botponto:
Escriba para jornalistas:
Influenciadores no TSE:
Inteligência Coletiva: treinando jovens para usar ferramentas abertas de investigação jornalística
Jogo Limpo and Elections2022: Amazon fact-checking:
RELOAD Eleições:
The solutions will be presented at an event to be held in August.