Miranda Patrucic Accepts the Knight International Journalism Award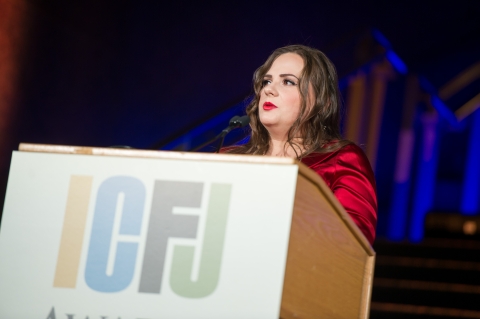 Thank you, International Center for Journalists. Today, as I stand here in front of you – some of the most respected journalists and media professionals in the world, I couldn't be more humbled and proud.
But my being here is a testament to the many reporters, researchers and editors in dozens of countries who make cross border investigative reporting possible. It is a craft that requires many to contribute their skills, their heart and their soul at the risk of their happiness, freedom and even life. I am here but there are many more who must remain invisible – unmentionable because they and their family members face arrest.
Growing up in war torn Sarajevo, I dreamed of being a doctor but when I entered the workplace what I needed most was a job to support my family. My English skills helped me get a good job with the BBC trying to reform Bosnia's public broadcast system. I peered into the heart of Bosnian media and saw corruption, political influence, and a deformed kind of journalism used to destroy people enemies, settle personal scores or justify wrongdoing. I felt sick to my stomach.
But then I was hired as a translator by the Center for Investigative Reporting in Sarajevo to work with two American editors – Drew Sullivan and Rosemary Armao. The Center was an oasis from Bosnian media – a place where there was no ethnicity, no politics. What mattered was your skills. They taught me how to be an investigative reporter but also about optimism, the power of good media and the power of the proven truth.
It was hard work but it paid off. I helped get the Prime Minister of my country indicted on charges of corruption and watched him resign. It was a powerful lesson.
When the Center co-founded a regional project called the Organized Crime and Corruption Reporting Project, I joined a group of amazing reporters – people like Paul Radu from Romania and Roman Anin from Russia. Both have stood on this stage and accepted this award. I worked with, and was inspired by, Khadija Ismayilova from Azerbaijan who served 18 months in prison for speaking truth to power.
Today I am privileged to meet, train and work with hundreds of young reporters. Like me, these reporters need training, resources, support, and access to great editors. They need our help. I am repaying my debt to my editors who left their home country to help me and hopefully I can play a role in unlocking more great journalists.
I have no illusions of what they will face. I never truly understood greed, grand corruption, organized crime, and governmental abuse, until I started working in Montenegro, Azerbaijan, Uzbekistan. These regimes imprison, abuse, extort, threaten, torture and even kill reporters who dare to challenge them. My colleagues face these risks every day. A number of them have escaped their home countries only to see their relatives jailed on false charges and their family homes seized. They may never be allowed back into the country of their birth.
But we too have power. When my friend Khadija was jailed, I worked with Azerbaijani reporters on the Khadija Project to document corruption of the first family. Khadija credits the work with helping win her release. In all, OCCRP has been responsible for $4.2 billion in fines, seizures and frozen assets. We have spoken.
But the only time you will hear the voice of our nameless colleagues is in our stories. None of us can ever imagine the guilt and pain they have suffered for the work they do.
We remember them tonight and I know they are watching this. My friends – I dedicate this award to you. You deserve it as much as I. Thank you.