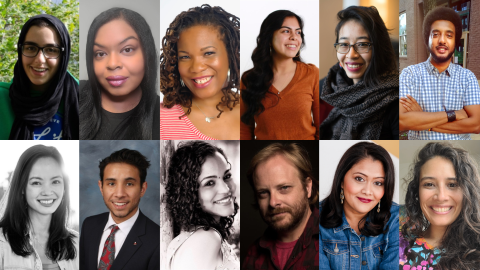 More than a dozen journalists from underrepresented communities across the United States will receive grants and personalized mentorship to launch or grow newsletters, podcasts and media outlets they run, as part of a program designed to help journalists build their personal brands and more effectively engage their audiences.

The initiative, a project of the International Center for Journalists (ICFJ) and the National Association of Hispanic Journalists (NAHJ) with support from the Meta Journalism Project, trained 25 participants on audience engagement strategies, audience trust, digital security, personal brand building and more. Thirteen were selected to receive $10,000 in funding and three months of mentorship, as part of the second phase of the program.

The journalists, many of them freelancers, are pursuing a variety of projects. One is exploring language, accent and identity in a new podcast. Another is publishing a newsletter on the challenges Muslim immigrants face in the Western World. And one podcast project is centering social, racial and environmental justice from the perspective of people of color. 

Learn more about our grantees and their projects below.

Lillian Agosto-Maldonado, Mundos Paralelos 
Mundos Paralelos will be an online cultural magazine covering the nuances and diversity of the Puerto Rican experience across borders, with the goal of serving as a means of connection for the Puerto Rican community through the preservation of history. 

Jeff Baraka, #DOWNNOW Project 
The #DOWNNOW Project is a series that merges topics including urban music, arts and culture, social justice, human rights and press freedom while showcasing musical talent and activism in Chicago. 

Nacho Corbella, Simply No Words
Simply No Words will provide news stories in a graphic video format that is accessible across languages and to those unable to read as a means of prioritizing often-overlooked news audiences. 

Kevin Del Orbe, WJCT Public Radio and WMFE Public Radio 
Del Orbe will work with two local newsrooms to develop social media strategies aimed at providing important and engaging news while also helping the newsrooms build strong connections with their communities. 

Irene Franco Rubio, If You're Feelin' Civic 
"If You're Feelin' Civic" will be a podcast centering social, racial, and environmental justice from the perspective of people of color through critical community conversations with activists, organizers, writers and public scholars.

Ruksana Hussain, Traveler and Tourist 
Traveler and Tourist is a digital magazine aimed at providing unbiased, diverse and inclusive stories on often overlooked topics to help travel enthusiasts plan trips to an array of international destinations.

Aysha Khan, Creeping Sharia 
Creeping Sharia is a newsletter offering comprehensive, in-depth review of the latest journalism on Muslims with the goal of helping subscribers understand the political, cultural, religious and social landscape faced by American Muslims.

Tasmiha Khan, Muslims Demystified 
Muslims Demystified will be a newsletter examining the cultural and religious challenges faced by Muslim men and women who have immigrated to the Western world.

Jessica Mendoza, Say That Again?
Say That Again? is a podcast focusing on accent, language and identity. The accompanying newsletter will offer subscribers behind-the-scenes content as well as prompt conversations about accent bias, empathy and meaningful communication.

Crystal Myrick, The Warrenist 
The Warrenist is a digital media outlet highlighting the art, culture, lifestyle and people of rural Warren County, North Carolina, with the goal of becoming a go-to online destination for news and information for people both within and outside of Warren County. 

Irene Romulo
Romulo will create and launch a bilingual personal website to build connections with individual readers and utilize it to help rebrand and grow a Spanish-language newsletter focused on explaining local government issues in Cicero, Ill. 

Elizabeth Wellington, Mindful Presents 
Mindful Presents will be a newsletter focusing on wellness and healing aimed at providing information and building community for women of color between the ages of 35 and 65. 

Tibisay Zea
Zea will produce a bilingual podcast covering some of the most common and underreported health issues affecting Latinos in the U.S., featuring advice and analysis from healthcare leaders as well as stories from individuals about how conditions have affected their lives.