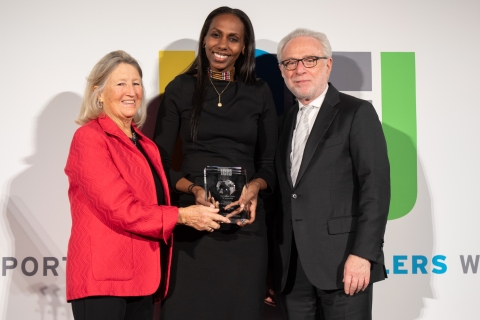 CNN correspondent Nima Elbagir, whose reports shed light on humanitarian crises such as child labor and modern-day slavery, says journalists who are privileged to have major platforms for their work must never forget colleagues around the world who do not.
Elbagir spoke during a gala ceremony in Washington, where she received ICFJ's Excellence in International Reporting Award. "We have to remember that if it's bad for us then it's exponentially worse for everyone everywhere else in the world," she said.
"Even as we think about, and rightly so, protecting our friends and our colleagues, we should think about what life must be like for other journalists around the world, without the benefit of our platforms. Because the reality is that there is a contagion of impunity," she said.
Born in Sudan into a family of journalists who often faced persecution, Elbagir said she never believed as a child that she would one day report on "one of the largest platforms in the world."
"I never take for granted having a platform, and I don't think that it's something that any of us should ever take for granted," she said.
As a senior international correspondent for CNN, Elbagir travels frequently to Africa and, often in the face of great personal risk, to tell riveting stories about human rights abuses. She traveled to Libya to expose the African slave trade with hidden cameras. In the Democratic Republic of Congo, she documented the use of child labor in mining cobalt, a key component in cell phone batteries. And in Liberia, she entered quarantine zones to report on the devastating effects of Ebola.
She recalled how her father was imprisoned in Sudan for his work and how government security officers were routinely stationed at his newspaper.
"I come from a country where freedom of the press isn't really something people even dream about," she said, "but in spite of that, I grew up in a home where I was brought up to believe that what we do as journalists is viscerally important, and that it matters."
Elbagir, who grew up in Sudan and London, said it was "incredible to be recognized by ICFJ" for her work and noted "there isn't a single day that I'm not proud to be a journalist."