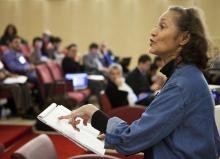 They received numerous applications but had to select just 35 of them to attend the online course that started in August and lasted six weeks, just before the country's Sept.12 public referendum on a constitutional amendment package that was sure to keep journalists busier than ever even during the last few hot and long days of the 2010 summer.
Despite their hectic schedules at work, the journalists who applied to take part in the course not only managed to read the course texts and present detailed homework assignments, they also joined lively online debates and provided real-life examples of the ethics issues that they face daily in their professional lives. Another online course was offered in September and November of last year called "Media Ethics and Digital Journalism."
The Media Association and the ICFJ brought together 25 journalists who completed both courses in a workshop in İstanbul on Jan. 25-27 to brainstorm on ethics and to develop a code of ethics.
"We are 'concerned journalists' just like the Committee of Concerned Journalists whose statement of shared purpose was given at the beginning of the workshop," said Vildan Ay, world news editor of the Sky TURK television channel in İstanbul.
"We are concerned about where our profession is going," she added in reference to a serious polarization in society that is also reflected in the country's media organizations.
This is what most journalists expressed during the workshop, as one of the course's instructors explained on the first day. "There are war-like conditions in Turkey. There are extremes of polarization. And the first loser in such conditions is journalism. … There is polarization in journalism and polarization in the public. People prefer to hear from the journalists they want to hear from. How is it possible that in the same day a story makes it to the headlines in half the newspapers and the other half does not see that story at all? This happens in Turkey. You end up having to read almost every newspaper in order to obtain thorough and accurate information," said Turkish journalist and educator Alper Görmüş, who co-delivered the online course together with Indiana University's Sherry Ricchiardi.
Participants in the workshop also said they often find themselves at odds in telling the whole story behind news because their newspapers do not acknowledge some stories at all or they are often expected to tell only one side of a story. In addition, journalists discussed the ethical challenges that they face regarding use of photography as they are expected to present a photograph accompanying every story without consideration of privacy or moral issues.
"I am new to the sector. Before, I attended courses offered by local media associations to improve my understanding of journalism ethics. But even before that, as a reader, I was aware of the lack of ethical considerations in the presentation of some of the news. I started to think about how to correct those and I decided to take part in this course," said Ali Şinasi Seven, who works for ekovizyon.com.
The writer of this report, Yonca Poyraz Doğan, was also an attendee of the online ethics course and the workshop offered afterwards.
Photos by Frank S. Folwell
This article was originally published on Today's Zaman. You can read the full story here.