Dear Friend,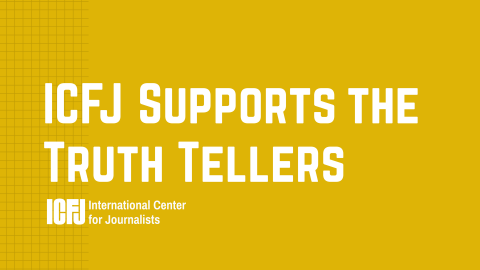 In celebration of World Press Freedom Day on May 3, we urge you to get behind our efforts to support reporters who speak truth to power. One of them is Mónica Almeida, an Ecuadorean journalist working for the independent daily El Universo. She is a member of ICFJ's Investigative Reporting Initiative in the Americas, known as Connectas, which has linked 150 journalists in 15 countries.
Working with a team of Connectas reporters, she exposed a $450 million money laundering scheme involving business and government players in Venezuela and Ecuador. Both countries are extremely dangerous for journalists. Stories about the scam ran in Latin American and U.S. news outlets. They revealed that some of the money, originally allocated for public housing in Venezuela, was used to buy luxury condos and yachts in Florida.
Reporting by Almeida and her team led to a crackdown on the money launderers. In all, Connectas has produced nearly 100 in-depth, investigative projects that uncovered an estimated $3.8 billion in mismanaged public funds.
If you donate today, your contribution will be doubled. We're delighted that ICFJ Director Raju Narisetti will match the first $5,000 in donations. Please help us reach this goal. To donate from your mobile device, text "ICFJ" to 41444.
Thank you for backing the work of truth tellers like Almeida who expose wrongdoings in the public interest.
Very gratefully,
Joyce Barnathan
President, ICFJ