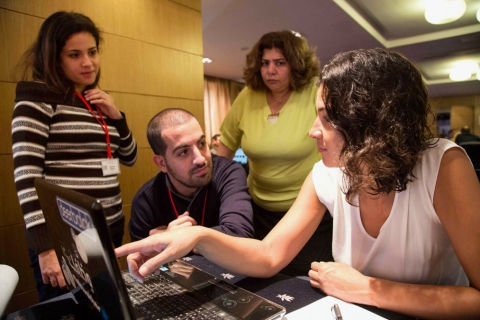 Google announced during its first Google News Initiative event in Dubai today a large-scale effort to offer digital skills trainings to thousands of journalists across the MENA region. In partnership with the International Center for Journalists (ICFJ) and its IJNet Arabic service, trainings will focus on digital tools to gather and source information, enhance trust and verification, and support data-driven journalism and immersive storytelling.
The program, 'IJNET Training Network Powered by the Google News Initiative,' will take place over the next 12 months and will see 4,000 journalists trained in six countries: United Arab Emirates, Saudi Arabia, Egypt, Lebanon, Jordan and Tunisia. 
Matt Cooke, Head of Partnerships & Training at the Google News Lab, said, "This new partnership forms part of our global effort to work with the news industry to help journalism thrive in the digital age. We hope this program will help develop and support innovation across the MENA region. This is our effort and we hope to roll out this training to more countries in the future." 
"The MENA region lags in providing digital journalism and inspiring trust at a time when young audiences are clamoring for it," said ICFJ President Joyce Barnathan. "We hope that this far-reaching program can close the tech gap in the Middle East – and enhance the quality of digital news." 
The need for digital training is acute. A recent ICFJ study, The State of Technology in Global Newsrooms, found that only 29 percent of newsrooms in the Middle East/North Africa regularly use multiple platforms to distribute stories – trailing those in the rest of the world – while 56 percent are struggling to build trust with audiences and 77 percent are concerned about their ability to create quality content.
There are three phases to the training program: 
In May, IJNet Arabic and Google News Initiative will hold a webinar where hundreds of journalists will receive virtual training on digital journalism.
In July, Google will host a "train the trainer" session for select journalist trainers to serve as digital media trainers. 
From August to May 2019, the digital media trainers will receive coaching from expert IJNet mentors as they conduct training events and spread digital know-how across the region.
Online courses in Arabic will also be available on the IJNet Arabic and the Google News Initiative websites.
Interested in the program? Learn more and apply.
---
About ICFJ
 
ICFJ empowers journalists to deliver trustworthy news essential for vibrant societies. Working at the nexus of journalism and technology, we build the expertise and storytelling skills of reporters worldwide. We promote high-impact journalism that leads to better lives.
About IJNet Arabic
IJNet Arabic is a digital news resource for aspiring and professional journalists in the Arabic-speaking world. With 35,000 website visitors each month, the platform is a one-stop shop for the latest tech advice, training opportunities and journalism news. IJNet Arabic also runs the Mentoring Center for MENA digital media entrepreneurs, giving them the skills and resources they need to take their startups to the next level one of the world's most challenging regions for journalists. IJNet Arabic is part of ICFJ's International Journalists' Network, which offers these services in seven languages.
About Google
Google's innovative search technologies connect millions of people around the world with information every day. Founded in 1998 by Stanford Ph.D. students Larry Page and Sergey Brin, Google today is a top web property in all major global markets. Google's targeted advertising program provides businesses of all sizes with measurable results, while enhancing the overall web experience for users. Google is headquartered in Silicon Valley with offices throughout the Americas, Europe, Africa and Asia. For more information, visit Google Arabia on Twitter or Google Arabia Blog.