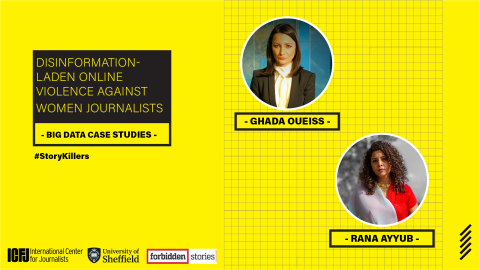 Two 'big data' case studies published today by the International Center for Journalists (ICFJ) – in concert with the Story Killers project – allow readers to see into the core of misogynistic, digital disinformation campaigns designed to discredit women journalists and chill their reporting.

ICFJ's research team partnered with University of Sheffield computer scientists to examine more than 13 million tweets directed at Indian investigative journalist Rana Ayyub and Al Jazeera Arabic anchor Ghada Oueiss. The results, detailed in the case studies, are disturbing – and emblematic of what women journalists face in their own regions and beyond.

"Our findings graphically illustrate the chilling ways in which patriotic trolls and foreign States target women journalists online in ways designed to discredit them, their journalism, and the news outlets they report for," said Dr. Julie Posetti, who led the research team.

The reports were produced as part of the Story Killers collaboration, steered by the global investigative journalism consortium Forbidden Stories. The project involves 100 journalists from 30 international news organizations who have chased the power and money behind disinformation campaigns targeting journalists. 

The two reports published today are among a suite of big data case studies produced by ICFJ and the University of Sheffield as part of the OnlIne Violence Early Warning System project.

The offline risks
Although Posetti has been studying online violence against women journalists for nearly a decade, she said she was alarmed at the ferocity of the attacks and the offline risks associated with them in the cases of Ayyub and Oueiss.

The journalists have faced prolific abuse for years, and are routinely threatened with murder and rape. For both, the researchers write that there is a major risk of online threats and harassment morphing into physical violence.

In Ayyub's case, five UN special rapporteurs issued a warning in 2018 that her life was "at serious risk" because of the abuse she had suffered – one of three instances involving Ayyub when UN rapporteurs have intervened.

Public death threats have been made against Oueiss by well-connected Saudi propagandists with massive followings on Twitter. Disinformation tactics deployed against Oueiss have included falsely portraying her as an Israeli soldier and a prostitute who slept with Islamic State fighters. These attacks are designed not just to sully her reputation, but discredit her journalism, and expose her to additional danger offline.
Ayyub, an award-winning investigative reporter and Washington Post columnist, is one of India's most globally recognized journalists. She experiences online violence targeting her identities as a woman, a journalist and a Muslim – abuse "mostly linked to her critical reporting and commentary on communal violence, human rights abuses and politics in India," the researchers found.

"I am not only being attacked for my journalism," Ayyub told the research team. "I'm being attacked for my faith. So if you are attacking me for my faith, I defend myself as a Muslim journalist."

Of all the obvious abuse directed at Ayubb, researchers found that 62% were personal attacks, including sexist, misogynistic, sexually explicit and racist abuse (e.g. "presstitute," "ISIS sex slave," "Jihadi Jane," etc.) and 35% was designed to undermine her credibility as a journalist or commentator. In addition, nearly 42% of all of Ayyub's tweets receive at least one abusive reply, a remarkably high rate, and the speed of the abuse is highly unusual – sometimes within seconds of her posting – potentially signaling coordinated campaigns. 

Ayyub is also battling multiple legal cases designed to silence her reporting, in what amounts to "lawfare," according to her defenders. The researchers draw parallels between the tactics used in attacks on Ayyub and those deployed against Nobel Peace Prize Laureate Maria Ressa in the Philippines.

"The now globally recognizable playbook maneuver of authoritarian States and political figures weaponizing the law against women journalists alongside targeted online violence campaigns is also practiced in Ayyub's case," they wrote.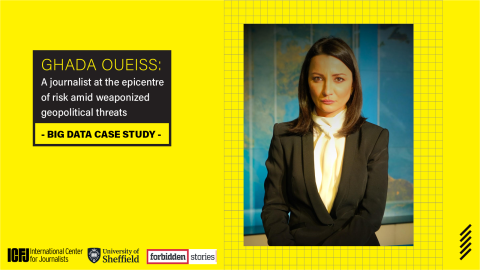 Oueiss is a principal presenter for Al Jazeera Arabic based in Qatar who was first targeted with brutal online violence campaigns in 2011, before she had even opened a social media account. The attacks go after her gender, age, Christian faith and her employer's "geopolitical vulnerability," the researchers write.

The data showed that more than one-third (34%) of the abuse directed at Oueiss was sexist, misogynistic or sexually explicit. Nearly half (47%) represented attacks on her credibility as a journalist, the highest incidence of this kind of abuse across the suite of big data analyses that the ICFJ-led team has conducted. "The clear objective is to destroy public trust in her accountability journalism in a region riven with geopolitical fault lines, and known for high levels of online violence towards women," they wrote.

For over a decade, multiple foreign State actor-linked online violence and disinformation campaigns have targeted Oueiss, including for her reporting on the Syrian war and the brutal murder of her friend, journalist Jamal Khashoggi, in the Saudi Arabian consulate in Istanbul in 2018. Private images were stolen from her phone in 2020 using Pegasus spyware – images that were doctored and then distributed with false narratives accusing her of promiscuity and prostitution. That episode triggered 40,000 abusive messages on Twitter within the span of a few hours.

"Doing my job in a region governed by misogynistic authoritarian regimes became almost impossible," said Oueiss, of the online violence she has experienced. "I believe journalists in the Middle East suffer from censorship and even from self-censorship. There is nothing more painful than self-censorship. Those who dare to speak truth to power put their life and their families' in danger, which leaves the region in the hands of propaganda, disinformation, manipulation and fake news."

Read the case studies on Ayyub and Oueiss.