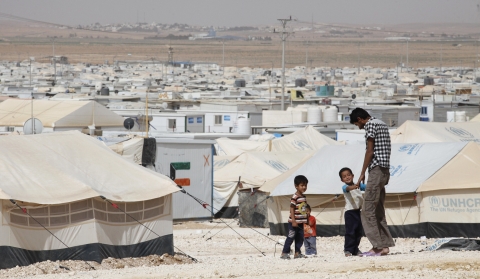 Reporters in the International Center for Journalists' (ICFJ) network have exposed sexual abuse of women refugees in Egypt, covered medicine shortages for migrants in Morocco, and reported on children exploited as beggars in Iraq during the pandemic. Their in-depth reports are part of a joint initiative with ICFJ and the Facebook Journalism Project supporting journalists as they shine a light on the experiences of refugees amid a global health crisis.
Leading media and humanitarian experts trained 120 journalists from the Middle East and North Africa how to better cover refugees — a highly vulnerable group — and to do so amid the constraints the pandemic presents. After the month-long virtual training, 34 participants received reporting grants and mentorship from award-winning journalism experts to produce in-depth stories from the region on refugees and other displaced people.
Some highlights:
Before pursuing their stories, the journalists received training on how to protect themselves and their sources during the pandemic. Trainers also coached participants on how to engage refugees in their storytelling, produce more compelling multimedia content, and verify information even with limited on-the-ground access. In addition, the training included information on freedom of movement in the time of COVID-19 and how the pandemic has impeded access to healthcare and other resources for refugees.
In 2020, more than 15 million people were living as refugees, asylum seekers or internally displaced persons in the MENA region, according to UNHCR. That's almost 19 percent of the estimated 80 million-plus forcibly displaced people worldwide.
"Journalists play a vital role in elevating the stories of people displaced from their homes, a number that continues to rise globally," said Sharon Moshavi, senior vice president of new initiatives for ICFJ. "The reporters in our network have put a spotlight on refugee communities and deepened their coverage of these marginalized peoples, at a time when it is more important - and yet also more challenging - than ever."
On World Refugee Day, ICFJ's International Journalists' Network (IJNet) will publish a media toolkit in Arabic and English, offering a comprehensive guide for journalists to help them write about underrepresented communities around the world. The aim of the media toolkit is to change the stereotypical narratives about refugees with investigative and truthful information.
Photo credit: Dominic Chavez/World Bank