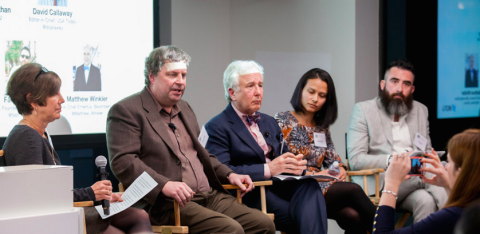 News organizations are struggling to cover ISIS, constrained by a lack of on-the-ground presence in the wake of its brutal murders of journalists, according to an International Center for Journalists' panel of media experts. But leading editors said they are finding ways to collect valuable information through a complex web of domestic and international sources.
On the panel were ICFJ Directors David Callaway, USA Today's editor-in-chief, and Matthew Winkler, editor-in-chief emeritus and founder of Bloomberg News; Paloma Esquivel, a Los Angeles Times reporter who covered the San Bernardino shootings, and Fadi Hussein, founder of Tahrir Souri, the leading Syrian-news Facebook group. ICFJ President Joyce Barnathan moderated the discussion in San Francisco at an event hosted by ICFJ Director Richard Gingras, senior director of news and social products at Google.
According to Callaway, USA Today has put together a network of sources, including officials from the Justice Department and the FBI, as well as seasoned reporters in Iraq and Europe. Winkler said Bloomberg pays close attention to financial institutions as it tries to follow ISIS money flows "wherever it leads us." But his new organization also monitors groups such as the Syria Observatory for Human Rights, run by a Syrian opposition activist in London, as well as Syria-based RBSS (Raqqa Is Being Slaughtered Silently), which received an award from the Committee to Protect Journalists for its reporting on ISIS atrocities. Winkler cautions, though, that this information needs to be carefully assessed.
Winkler said his reporters and editors also track ISIS's own sophisticated news products, including the group's magazines, radio program and news service -- propaganda that "would make Goebbels proud," he said. Hussein said that one magazine for English-speakers "is no different in design" from Time.
At the heart of its dangerous propaganda machine, the panelists noted, is ISIS's heavy reliance on social media and new technologies to spread the group's message. While Twitter and Facebook have stepped up efforts to shut down ISIS-related accounts, ISIS is finding plenty of new distribution channels, said Hussein, whose Tahrir Souri Facebook news group has 35,000 members and more than 200 reporters across Syria. ISIS is now switching to platforms such as the encrypted chat app Telegram, Hussein said.
"ISIS has its own 24/7 technical team," which has now developed an Android app to distribute its videos and information to foreign supporters and recruits, Hussein noted. He said ISIS recruits 90 percent of its adherents through the Internet and social media.
The journalists said they are eager to avoid amplifying the terrorist organization's efforts to spread its brutal message. "You use everything you can get your hands on," said Winkler. "The decision about publishing is a much more difficult one." Callaway said USA Today weighs each story carefully to make sure it has news value, and is not simply "becoming more propaganda for ISIS."
The challenge of reporting on ISIS extends to the United States, says Esquivel. A local reporter in San Bernardino, she found herself reporting an international terrorism story during the killing spree by Syed Rizwan Farook and his wife, Tashfeen Malik. When this case suddenly became a federal investigation, Esquivel's local law enforcement sources were "useless," she noted. She made use of a plugged-in reporter with good intelligence sources in the LA Times' Washington bureau. Also useful were Esquivel's connections in San Bernardino's Muslim community. Yet she recognized the challenge in reaching out to them. "You want to tap into the community but not make them responsible for the actions of a couple of people," she said.
The panel agreed that U.S. reporters need a deeper understanding of Islam so that they don't tar all Muslims with ISIS extremism or inadvertently incite further attacks. ICFJ President Barnathan recommended that U.S. news organizations make it a priority to train their reporters to produce more sophisticated coverage.
Check out a slideshow with photos of the gathering.