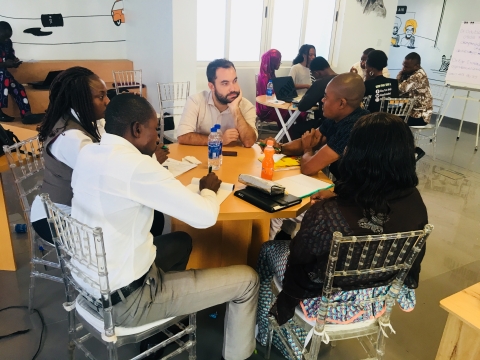 A cadre of newly trained journalists from across Nigeria have reached millions of readers and listeners with stories on climate and migration issues affecting their communities, as part of a program to bolster coverage of these critical topics in a part of the world deeply influenced by them.
The 40 journalists who participated in the International Center for Journalists (ICFJ) and United Nations Foundation program produced more than 50 stories on topics such as migration linked to conflict, flooding and desertification, and the resulting impact on health and economic security.
They worked with environmental and population experts, as well as top media trainers from Africa and beyond. The training, both virtual and in-person courses, focused on better understanding climate issues, learning data-driven tools and strengthening multimedia storytelling techniques. 
As part of a story competition for program participants, a panel of judges recognized three journalists for their outstanding coverage:
The three winners received cash prizes of $1,000, $500 and $250. 
The program encouraged Nigerian reporters to produce compelling stories on the UN Sustainable Development Goals 10 and 13, aiming to "reduce inequality within and among countries" and to "combat climate change and its impact" by 2030. Other participants produced stories on topics such as health care in camps for displaced people, conflicts between farmers and herdsmen and the relation to migration, land degradation as a result of illegal gold mining, increases in annual flooding and population movements that stem from oil spills.