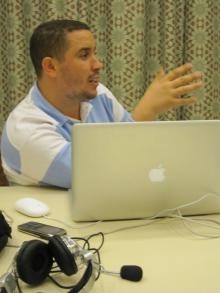 "The most important change is the editorial content on the new website," Lakehal said of the Al-Yaum website by him and his colleague Bashir Rahmani, launched in January. Recognizing that the online reader is unlike the traditional print reader, the pair ended the previous practice of automatically publishing every article from in the newspaper. "Now, we just select some," Lakehal said. They also trained the news staff to write short, bright headlines, to stir interest for each piece.
The new, interactive site – which draws about 100,000 readers a day – is also loaded with new media such as images and video clips, he said.
With the goal of improving Arab media overall, Lakehal and Rahmani created the Gate of the Algerian press website in June 2010. It posts opinions about the media from both journalists and citizens. Two examples of interactive sections are: "Not Professional," where the site posts a media error for open discussion; and "Media Confrontation," where widely known media personalities take questions – sometimes drawing hundreds of comments.
Right now, the two founders are concentrating on expanding interest in the website, Lakehal said. A push for advertising will follow: "We hope this site will be very successful," he said.
Lakehal took on his first website in 2005, as editor of the Echorouk newspaper in 2005. But he said it was only later that two ICFJ Anywhere courses taught him the right way to run a website: Building news websites, in 2008, and Freedom of expression in the digital age, in 2009.
Lakehal had a distinguished journalism career before shifting to online consulting. Besides Echorouk, he worked at Algerian newspapers including Al-Sabah Al-Jadid and El-Khabar. He also worked extensively as a correspondent in Algeria for regional and international media including Kuwaiti newspaper Al Qabas, Radio Sawa, and MBC.net – a leading Arabic entertainment website.
While at Alshrooq, Lakehal co-wrote an eight-part, investigative series on poverty in Algeria, as well as an expose about an official working in a ministry whose political enemies put his name on the country's list of terrorists – ruining his life. At Echorouk, he covered the biggest financial fraud case in the history of Algeria, involving Khalifa Bank.
Lakehal is now working toward a master's degree in journalism, but the courses that mean the most to him are the ICFJ Anywhere courses.
"It was the turning point in my life," Lakehal said. "Participating in the online courses changed the shape of my work. To this day I log in to the course website to review the materials and discussions with my colleagues, and I will take more courses, for sure."