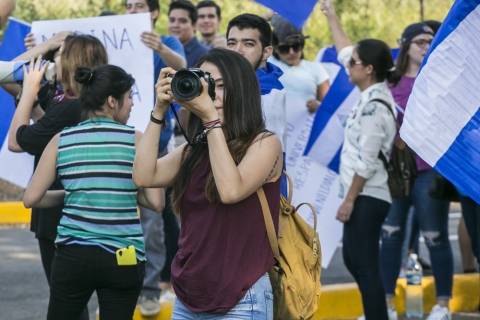 Journalists in Nicaragua face heightened levels of violence, harassment and arbitrary detention amid the greatest political turmoil the country has seen in decades. The International Center for Journalists (ICFJ) is responding by helping embattled journalists stay safe, build their investigative reporting skills and employ new digital tools to continue covering critical stories.
Police and pro-government groups in the past year have targeted journalists and activists in what Human Rights Watch has called a "sweeping crackdown against the free press." The increased attacks have come after a violent crackdown on protesters in April 2018 grew into a sustained period of social unrest.
Program Directors Jacqueline Strzemp and Aliza Appelbaum manage ICFJ's work in Latin America, including a regional effort to promote cross-border investigative journalism, in concert with our Colombia-based partner, Connectas. They spoke with me about the situation facing journalists in Nicaragua, and how ICFJ, with its long track record in Latin America, is helping reporters adapt to the closing media environment.
What is the situation like right now for journalists in Nicaragua?
Jacqueline Strzemp: News organizations have been raided, and journalists are experiencing threats and attacks for reporting on the crisis. Many are working from outside the country now. That includes journalists we have worked with at ICFJ.
Aliza Appelbaum: We're also seeing increased financial pressure on journalists. Less than 20 percent of news organizations in Nicaragua operate independently, and a new anti-terrorism law targets international donors, including those who help fund these outlets. The law includes language about cracking down on people who are "inciting hate." Authorities have used the law against journalists covering demonstrations, accusing them of spreading false news to provoke violence.
Raids, arrests and financial pressure make it harder for independent media to continue operating. Most independent outlets have so few resources now that they are operating in survival mode. These outlets include community radio stations and blogs that have a staff of two or three. 
Strzemp: Exactly. For an outlet run by two people, having one person hospitalized, or having equipment stolen, is a huge financial and emotional burden. There aren't enough people to do the coverage that's needed.
What has the crackdown on media meant for Nicaraguans and their access to news and information?
Appelbaum: Accessing information is more difficult, and more dangerous. There are fewer options than there used to be. Nevertheless, many media outlets, even those that have been attacked, continue to publish. Social media has been key in that. Since the crackdown started in April, people have turned to Facebook Live, Twitter and WhatsApp. People are spreading news in whatever way they can.
Strzemp: And this has its own challenges. There is a lot of misinformation spreading on social media. Journalists have also been doxxed, meaning that hackers have found and broadcast personally identifiable information about specific individuals online. This has a chilling effect. Journalists have to consider their own safety as reporting becomes so risky.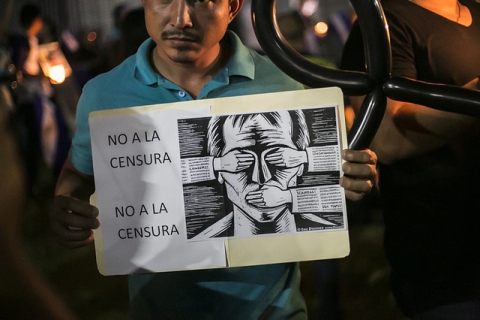 How have you seen journalists adapt to the closing media environment?
Appelbaum: Journalists are continuing to do their jobs as best as they can, whatever that entails. It can mean doing your job from another country, or staying in Nicaragua but laying low and amplifying the voices of others for a while.
Getting the word out that the media is under attack has been vital, so that more people are paying attention to the situation in Nicaragua. The hope is that this will make it more difficult to attack someone openly, or make someone disappear.
Strzemp: Journalists in Nicaragua have also started to teach each other about secure communication tools. They have really upped their game in terms of calculating risks and protecting themselves.
What kind of security measures should journalists take?
Strzemp: Security training starts with creating a plan and being prepared for what could happen. Here at ICFJ, we are making sure that journalists know how to use a burner phone and secure messaging apps. It's not about telling journalists what tools to use, but rather making sure that they understand how end-to-end encryption works and all the other aspects of the tools that they are planning to use. For example, if journalists use Signal, they should understand Signal's privacy policies.
Appelbaum: And it isn't just security training that's important right now. Journalists in Nicaragua need similar skills as other journalists and aid workers working in conflict zones. This includes stress and trauma management support.
How else has ICFJ responded to the changing situation in Nicaragua?
Strzemp: Investigative journalism will be important moving forward, so we are also supporting journalists as they develop these skills and gain experience working with data. Taking the long view on this crisis, it's important for journalists to be able to track the actions of authorities and trace how the political and social environment changed over time.
Appelbaum: We're doing the best that we can to reach people where they are for all of these trainings. Bringing a big group of journalists together is not always practical. Alternatives like webinars allow us to reach people in a less risky way. This is very important in a changing, unpredictable situation.