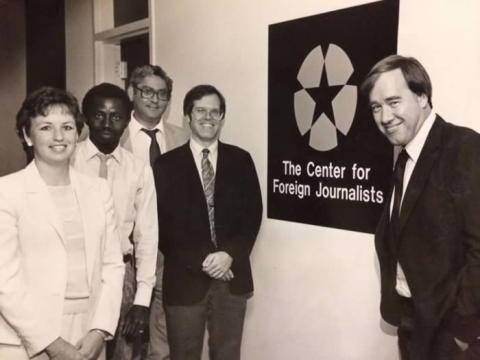 The International Center for Journalists is saddened by the loss of our founder and first President George Krimsky, who passed away from lung cancer on Jan. 20. A seasoned correspondent, George launched our organization in 1984. He ran ICFJ programs for more than a decade for our colleagues overseas. He was passionate about his work—and never stopped supporting us throughout the years.
Over the years, I personally received heart-warming messages from him. He was truly proud of our work—and of the amazing ICFJ staff. In March, for example, he wrote, "you, the board and the staff have done a remarkable job of keeping ICFJ and its mission relevant. I can no longer take credit for this ... But thanks anyway. On my 'bucket list' is a visit to your new office (What - 3 years now?) and to meet the new generation. My God, they are so WITH IT! Best Wishes, George."
In our office in Washington, D.C., there are three photos of our founders: George, Tom Winship of the Boston Globe and Jim Ewing of the Keene Sentinel. You'll notice that George, a long-time AP reporter, is dodging bullets, covering the civil war in Lebanon. He was a stellar foreign correspondent, a great journalism trainer and a visionary. We send our sincerest condolences to his wife, Paula, and his family. George wanted us to celebrate his life, and we will do so by continuing his distinguished work in journalism.
George, his daughter said, wrote his own obituary.