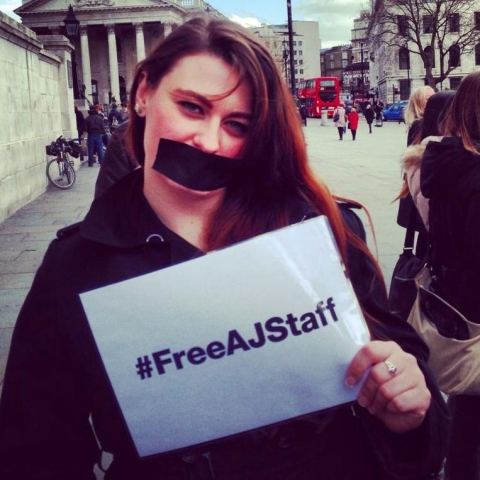 During a panel discussion marking the one-year anniversary of the imprisonment of three Al Jazeera journalists in Egypt, ICFJ Vice President of Programs Patrick Butler emphasized the importance of freedom of the press in Egypt and around the world.
Al Jazeera's Bahar Mohamed, Mohamed Fahmy and Peter Greste were arrested in Cairo on Dec. 29, 2013 after interviewing members of the Muslim Brotherhood, an opposition group banned in Egypt shortly after Gen. Abdel Fattah el-Sisi's takeover. The journalists were charged with aiding the opposition, and in June, Greste and Fahmy received seven-year prison terms and Mohamed, a native Egyptian, was sentenced to 10 years in prison.
Al Jazeera America's Ray Suarez hosted the panel discussion on his show, Inside Story, on the anniversary of their imprisonment. Butler was joined by Lina Khatib, Director of the Carnegie Middle East Center, and Sahar Aziz, an associate professor at the Texas A&M School of Law who specializes in rule of law in Egypt.
The participants discussed the social and legal implications of the journalists' imprisonment as well as charges brought against other individuals and organizations, including ICFJ. For Butler, the plight of the Al Jazeera journalists hits close to home.
"My organization was one of the five that were raided in late 2011, charged with working illegally in Egypt and I and 42 others were charged with accepting foreign funding and working illegally in the country," Butler said. "So I can relate somewhat to what's going on for the Al Jazeera journalists, although luckily I was not in Egypt at the time and so I'm not in jail." Butler was convicted and received a five-year sentence. He would be imprisoned if he returned to Egypt.
Butler has traveled to Egypt many times since ICFJ started working there in 2005 and says that while "it certainly was not a free press then...it's gotten much worse now."
He said that even the fear of being arrested has silenced many news outlets. "Editors of both government-run and private newspapers said that they would not challenge the government, they would not print anything that would be critical of the government because they didn't want to be seen as promoting terrorism," Butler said. "And what you saw with the Al Jazeera journalists is they were simply trying to interview members of the opposition, of the government that had been in power. And that is equated with promoting terrorism."
Egypt is now one of the top five countries in the world for jailing journalists and, according to Reporters Without Borders, second in the world in the arrests of journalists in 2014. "I think we are seeing a real escalation in Egypt against journalism and against civil society as well," Butler said.
And the issue of press freedom is not unique to Egypt. It's a region-wide problem. "I don't think on the whole we're seeing a lot of progress...in terms of media freedom, freedom of the press. In countries that are seen as perhaps some of the best in the region like Jordan and Morocco, we're still seeing problems in those countries," Butler said. "There are very few countries in the region where we're seeing a movement towards openness, freedom of expression." He cited Tunisia as one positive example.
Butler says the solution may lie in the economy. "The economy is the lynchpin of the whole thing," he said. "Average Egyptians now may be supportive of Sisi in ways that might surprise some of us in the West. But that may change very soon if the economy doesn't improve."
Since their arrest last year, the imprisoned journalists have received an outpouring of support from news organizations and citizens on social media who are using the hashtag #FreeAJStaff and posting pictures of themselves with tape over their mouths, holding signs saying, "Journalism is not a crime."
Join Al Jazeera for a global day of solidarity with our imprisoned staff in Egypt #FreeAJStaff http://t.co/r19GTY1z8O pic.twitter.com/cCcBK7oiKw

— Al Jazeera America (@ajam) February 27, 2014
Al Jazeera journalists mark one year in Egyptian jail http://t.co/LmmFVlHufn #FreeAJStaff pic.twitter.com/Gx3GTY6FdK

— NewsHour (@NewsHour) December 29, 2014
ICFJ is not permitted to include a link to this panel discussion due to contractual limitations for Al Jazeera America.