PROTO, an Indian media development startup by ICFJ Knight Fellows Nasr ul Hadi and Ritvvij Parrikh, has launched PROTOcall — a series of weekly online webinars for Indian journalists on emerging issues in media and journalism around the COVID-19 crisis. Learn more about ICFJ's Global Health Crisis Reporting Forum.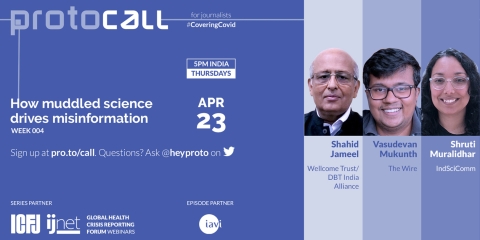 Finding dependable primary sources of information can help journalists better report on complicated and technical subjects such as COVID-19, said science communicator Shruti Muralidhar at a PROTOCall webinar last Thursday. 
But even with primary sources, she cautioned, journalists have to make sure the science is right before reporting on it. "One of the ways I use to check the veracity of scientific claims is by looking into whether they have been validated by at least three other independent studies," she said. 
For the webinar, Muralidhar joined Shahid Jameel, virologist and CEO of the Wellcome Trust/DBT India Alliance, and Vasudevan Mukunth, a science editor at Indian news website The Wire.
Here are key quotes from the conversation:
On approaching deadlines while covering the pandemic
Mukunth noted that while newsrooms need to be accurate, concise and timely in their reporting, his approach at The Wire has been to "throw away the deadline" and spend time on articles to fact-check the claims and arguments laid out before publishing. 
"We provide sources for all data points invoked, and all stories that mention a study or a paper of any kind must include at least one independent comment by a scientist working on the same topic but completely unaffiliated to the original study," he said. 
He noted that accuracy is more important than speed at this time, as spreading misinformation during a pandemic could cost lives.
On the biggest myths and misconceptions around COVID-19
Jameel outlined some of the most widespread myths around the pandemic including claims that the virus originated from a lab, chloroquine works as a treatment for the virus, or that the low infection rates reported in some regions are a result of the BCG vaccine or hotter climates. 
"Let's take the claim that the virus came from a lab. Viruses evolve, leaving behind signatures of this evolution in the genome. When somebody creates a virus in the lab, it is an abrupt event, which you can tell by just looking at the sequences," he explained. "There are already many sequences identified for this virus, which shows its progressive evolution. So to say that this virus has been created in a lab doesn't match the science."
In dealing with some of the claims, Jameel pointed out that correlation does not necessarily mean causation, as is the case with claims that certain temperatures are inhospitable to the virus. 
Panelists' tips on health and science reporting:
 
If you are interested in covering science in the long term, it helps to talk to scientists when there isn't a pandemic. Understanding how they communicate can better prepare you to report on a crisis such as COVID-19.
 
Newsrooms should put effort into building a cadre of science, technology and health reporters, as well as a database of scientists and experts who can answer questions and provide explainers when the need arises.
 
When interviewing scientists, it is important to distinguish facts from opinions. Journalists should not expect to do a good job of covering the pandemic without learning something of the underlying science itself, because that is what they need in order to ask the right questions. 
Watch the webinar here, read recaps of previous PROTOCalls here and sign up here to join the next PROTOcall.