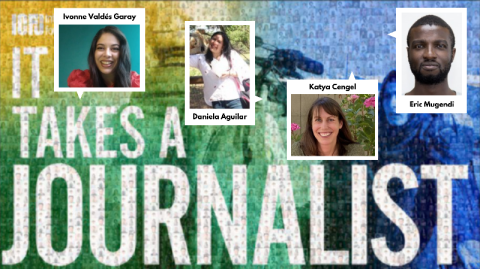 Earlier this month at our Tribute to Journalists 2020 we launched a photo mosaic featuring some of the reporters who make up our global network. Hundreds of journalists – from Afghanistan to Zambia – have contributed to the growing mosaic, sharing who they are and how ICFJ has helped them. Some examples (pictured in the mosaic on the right):
Ivonne Valdés Garay, of Mexico: "When the pandemic started...I was able to find awesome groups and forums such as the ICFJ where I have support from colleagues and discover new helpful resources. Being a small town journalist with international interests, this connection means so much to me!"
 
Daniela Aguilar, of Ecuador: "Thank you to the ICFJ team for supporting journalists in so many ways. Thanks for letting me participate in workshops, a fellowship, and also to collaborate as editor in one of your projects. Keep going!" 
Eric Mugendi, of Kenya: "I work with journalists to fact-check and verify information, and the network opportunities provided by the ICFJ have allowed me to learn how others around the world are doing this efficiently and effectively."
 Katya Cengel, of the U.S.: "Twice ICFJ has helped fund my international coverage. During the pandemic, they have been offering informative virtual talks. Proud to be part of their mosaic.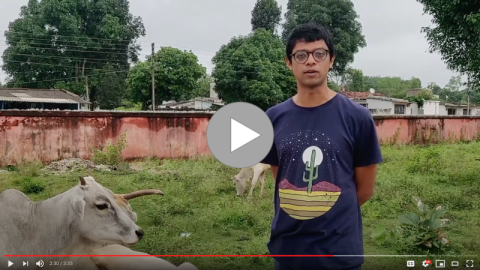 Now, it's our turn to say how thankful we are to them, to journalists around the world covering the news during a pandemic.
At ICFJ, "It takes a journalist" is not just our motto. It's a deeply held belief that explains why we do what we do. We know it takes a journalist – a world of them – to keep us informed, educated and prepared. Over 36 years, ICFJ has had the privilege of working with more than 150,000 journalists from 180 countries. Individually, these journalists take great risks to speak truth to power. Together they are changing the world.
Watch this video to learn more about the inspiring reporters who make up our network, and how ICFJ is giving them the skills to cover the most pressing issues of the day. And if you are a member of our network, please help us build out our mosaic by adding your story today.