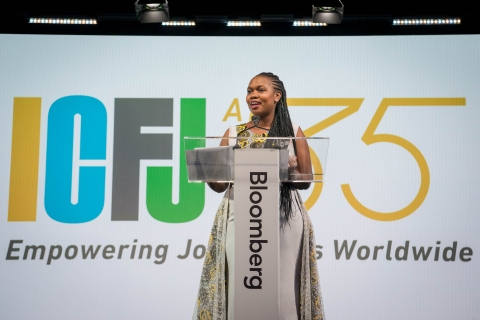 Judges selected Dorcas Wangira as the 2019 Michael Elliott Award winner from more than 200 entries. Her winning story on the fight against female genital mutilation stood out for its courageous reporting, they said. See her written acceptance speech below.
In Africa, we say it takes a village to raise a child. It also takes a village to tell a story. I wouldn't be standing here tonight if it weren't for my village - the editors, colleagues, family and friends who have supported my work. I am grateful to them and to all the people who allowed me to tell their stories.
I am truly honored and extremely humbled to be the third winner of the Michael Elliott Award. Thank you to ICFJ, ONE, the Elliott family and the judges who took their time to evaluate my work and deemed it worthy to honor Michael Elliott. This now gives me the challenge to make sure that, just like him, my work bears witness to and improves the human condition. Thank you for amplifying my voice and that of Brigitte Perenyi, a world-class storyteller, who immersed herself in her story and shared a personal account of the injustice meted out to children. You have allowed me, as Chinua Achebe says, to be part of the dialogue, to sit at the table and effectively tell the African story from an African perspective, in full earshot of the world.
But allow me to tell you the backstory behind my documentary.
On May 8, 2017, I wrote my resignation letter as a journalist. It was the second one in two years; the first as a news correspondent in my ancestral home in Kakamega, Western Kakamega, and then as a special projects correspondent in Nairobi. I could barely make ends meet. I had very little to show for my work and I was convinced that I had to find another job. I still didn't know how to define myself outside of mainstream media, outside employment. I thought I would find happiness outside the newsroom, not telling stories. But I was wrong. It was at this time that I came to the full realization that storytelling is the only thing I know how to do and in the words of Maya Angelou: "There is no greater agony than bearing an untold story inside of you."
I was drawn to the story of the five girls who designed an application to help fight Female Genital Mutilation (FGM), not just because it had a global appeal, but also because it offered a solution grounded in science and technology. But at the same time, I also realized that there was something news outlets were leaving out: the whole story. FGM is much more complex than we believe it to be. The five girls were up against the social, political, cultural and legal forces and loopholes that account for the continued practice of FGM for so long. 
In the newsroom, stories about FGM may not always be given priority. I remember one of my colleagues fighting for her story about FGM, telling the editor that "I will only stop telling stories about FGM the day FGM stops." That has been my creed. 
There was, and still is, so much work to be done. As we speak, they are still working hard to make sure that the application is live and at least on a USSD platform. I am glad that they trusted me with their story. Because of them, I found a new opportunity to go back to the newsroom and start all over again with a new focus.
And I do hope that people from different parts of the world can respond to it, because it says something about their own history and experience. The real heroes are the girls, and every woman and girl who has had to endure and live with the impact of FGM, as survivors.
In closing, I would like to thank my village...the African Academy of Sciences, who gave me my first grant as a freelance journalist; my supervisor Joy Wanja Muraya, a senior journalist who guided me; my friend Dr. Keren Weitzberg, who used her GoFundMe account to create a platform to raise more money to produce my story; my parents; my sister Beryl Bambgala; my friends who gave their money because they believed not just in me but my story and why it was important; my creative and production team; my friend Dickson Otieno, who was part of the team that mentored the five young girls at Lakehub in Kisumu and who insisted that this story must be told.
There are no words to describe what I feel for this honor. It renews my focus and sense of responsibility, and I hope I live up to the definition of a storyteller. As Achebe writes, "Storytellers are a threat. They threaten all champions of control; they frighten usurpers of the right-to-freedom of the human spirit."
Thank you and goodnight.
The International Center for Journalists (ICFJ), in partnership with ONE and the Elliott family, recognizes excellence in African storytelling every year with the Michael Elliott Award. It was established in 2016 in honor of Elliott, an outstanding editor and philanthropist whose life was a testament to the power of storytelling to bear witness to and improve the human condition. Learn more.