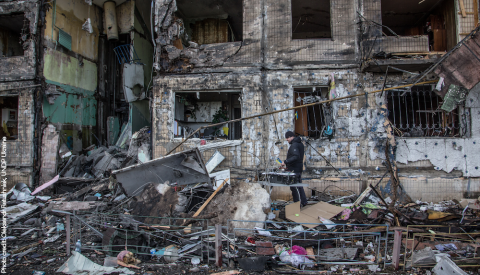 For weeks, journalists in Ukraine and around the world have been reporting on a harrowing war. Many in Ukraine have become conflict reporters overnight. Independent Russian journalists, most now in exile, are working to get information to audiences awash in government propaganda. And journalists elsewhere are helping their communities understand what this conflict means for them.

At ICFJ, we are taking steps to ensure these reporters can get the support they need. Here is what we are doing to help, thanks to our generous supporters.

Grants to Improve Reporting and Fight Disinformation

We are making two new kinds of grants available to members of our network in the former Soviet Union and Eastern Europe to address the increase in disinformation, censorship and crackdowns on independent media, and to help inform audiences who lack access to reliable information.

The ICFJ Pamela Howard Global Crisis Reporting Fund will offer grants of up to $3,000 to journalists providing reliable coverage on the Ukraine-Russia War, disinformation, refugee reporting, accountability reporting and more. 

Our Digital Tools to Support Journalists Fund will provide grants of up to $10,000 to journalists for projects that elevate reliable coverage, such as data visualizations, digital security tools, platforms to share stories more widely, databases of public information, or other innovative ideas.

You can learn more about the eligibility criteria and apply for the two grant pools here.

In addition, the new Joyce Barnathan Emergency Fund for Journalists gives financial support to help our colleagues in distress stay safe as they continue their important work. This fund, named for ICFJ's former president, will support our close partners in Ukraine, Russia and beyond who are risking their lives to report the truth.

Helping Journalists Who Are Now Conflict Reporters

Our Pamela Howard Forum on Crisis Reporting has been offering sessions to help reporters inside and outside Ukraine better navigate the conflict. In our English-language Forum, these include a two-part safety and ethics training for journalists covering conflict, a session on the laws of war and a panel discussion on covering the war in Ukraine. You can find all of our English-language crisis reporting sessions here. The Crisis Reporting Forum is also offering sessions in French, Spanish and Portuguese on topics such as how to use open-source intelligence to cover the war, journalist safety in conflict zones, refugee issues, and more. 

Expanding Support for Russian-speaking Journalists

Our International Journalists' Network (IJNet) is sharing guidance for journalists covering the war, in eight languages, including Russian. This daily-updated list of support and resources for journalists covering the invasion includes emergency assistance, independent media support, digital and physical security help, ways to help reporters on the ground, and more. We are amping up content production on the Russian version of IJNet, so journalists in exile can get the help they need, including a webinar featuring journalists in Ukraine.

Other resources include tips for reporting on Russia's invasion of Ukraine, guidance for on-the-ground reporting for French-speaking journalists, keys to avoid  "bothsidesism" when covering the war on the Spanish website, and tools for exposing misinformation about the war on IJNet's Arabic website. 

Elevating Trustworthy Sources on the War

ICFJ Knight Fellow Sérgio Spagnuolo has developed a new tool for surfacing reliable information about the Ukraine invasion. The Global Conflict Monitor is a web application that tracks over 150 trusted sources covering the war in Ukrainian, English and Russian. It is a great resource for journalists and researchers, as it allows easy, fast content discovery from vetted sources. Users can easily search tweets, filter by keyword or language, and discover important and insightful content. In a conflict often described as an Information War, the Global Conflict Monitor is a critical way to combat disinformation.

And in the face of Russian government efforts to shut down independent news sources, we are also working with partners to bring news from those reliable sources to Russian audiences awash in propaganda.

Collaborating to Support Journalists on the Ground

Last but not least, we are working with the Global Forum for Media Development, which is playing a coordinating role for efforts to help Ukrainian media. Our longtime partner, the Organized Crime and Corruption Reporting Project, based in Eastern Europe, is providing safety gear, legal and logistical support and advice such as emergency first aid training. They are also helping get journalists out of Ukraine if necessary.

We are grateful to our funders who make these initiatives possible. The John S. and James L. Knight Foundation has provided generous support. In addition, dozens of individual donors have contributed through ICFJ's It Takes a Journalist campaign, which we designed to help journalists meet the most urgent challenges of today. Their support allows us to flexibly deploy resources where they are most needed.