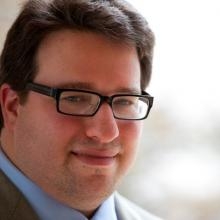 Menachem Wecker was already a busy freelancer when he took the ICFJ Anywhere course, International Coverage of Religion, in the spring of 2009. So he was solid on the basics of his chosen specialty. But religion is a big and complicated topic, and Wecker wondered what he didn't know. The course filled some gaps for him – with discussions ranging from jihad to enforced moralities to covering minority religions. Now he is busier than ever, writing for newspapers, religion publications, and a blog on art and religion.
The course made a big impression on me, expanding my research and my writing," Wecker said. "I was conscious of how little I knew about whole, big realms of experience. Talking to my classmates about their perspectives gave me the ability to understand faiths and cultures I had not directly experienced."
Those classmates numbered about two dozen and came from nearly that many countries, including Bosnia, Argentina, Nigeria, Egypt, Canada, India, Pakistan and Armenia. Leading the online course, March to May, was David Briggs, a 25-year veteran of religion coverage consistently ranked one of the top 10 secular religion writers in North America.
Just as instructive were the critiques students gave one another on work samples. "I hadn't had any newsroom experience, and others had," Wecker said. "On one piece I shared, abut so-called 'self-hating Jews,' I got great feedback. One colleague said the lede could have been stronger – and she was right."
Wecker works full-time in news and publications at George Washington University in Washington, D.C., where he also completed an M.A. in art history at the same time he took the ICFJ Anywhere course. In addition, his freelance articles appear in a growing variety of venues including The Arab American News, Religion News Service, National Catholic Reporter, Jerusalem Post, New York Arts Magazine and Mormon Times. A blog on art and religion that he started in 2004 – when he also started writing a biweekly Jewish art column for the Brooklyn-based Jewish Press – has now been picked up by the Houston Chronicle. ()"My readership increased many times over," he said.
"In a recent change in my writing, I am expanding the scope from covering Jewish art to covering religion and art in general," he said. Last December, he wrote a print piece for the Chronicle on Christmas, and another on public displays of Hannukah ritual objects.
ICFJ Anywhere is a worldwide source of distance learning opportunities from the International Center for Journalists in Washington, D.C. Wecker recommends the courses for aspiring journalists and for journalists – like him – who aspire to keep improving. "How good it is that this course could take place online," he said, "that we could all be sitting at home in such different cultures and places and time zones and this forum could connect us all."