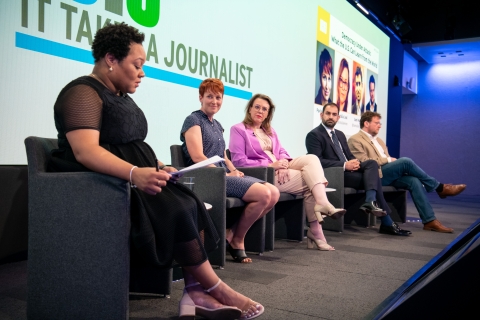 The signs of Russia's turn away from democracy came early in Vladimir Putin's presidency. Putin deployed populist propaganda pitting the educated, urban elite against "the people." That may have been a missed opportunity for journalists, who at the time enjoyed greater freedoms, to reach Russians outside the major urban centers, said Peter Pomerantsev, a Russia-Ukraine expert speaking at an ICFJ event in New York City recently.

He drew parallels to the U.S. today: "I do sometimes wonder here, how can some of these really impressive media that are based in the avenues around here, start to engage the audiences that are maybe starting to be swept away under the influence of other media and other influences? How do we penetrate conspiracy theory bubbles? How do we reach audiences that have lost trust in media? I think it has to be done with quite a lot of purpose, and it's not easy."

Pomerantsev spoke on an ICFJ panel at Bloomberg News called, "Democracy Under Attack: What Can the U.S. Learn from the Rest of the World?" Yamiche Alcindor, Washington correspondent for NBC News and host of PBS's Washington Week, moderated the session, which also featured three ICFJ Knight International Journalism Award winners: Pavla Holcová, founder of the Czech Center for Investigative Journalism; Natália Leal, CEO of Agência Lupa in Brazil; and Samiullah Mahdi, former bureau chief for Radio Azadi in Afghanistan.
Asked if he were concerned about Russia attacking other neighbors, Pomerantsev said he is most worried about non-NATO neighboring countries, naming Moldova and Georgia. In the Czech Republic, said Holcová, "we are just freaking out, because it is just too close."  

Residents of Prague, a city of 1.2 million people, have welcomed with open arms 350,000 refugees from Ukraine, she said. "And to be completely honest, I think we are doing it because we are just afraid it will come to our countries as well – the conflict," said Holcová, who noted that most of her friends are housing Ukrainian families.

All of the journalists on the panel discussed the deteriorating situation for journalists and democracy in their countries and regions, highlighting declining freedoms, a rise in disinformation and misinformation, and a worrisome lack of public trust in journalism.

In Afghanistan, Mahdi said what is happening is a disaster. "It's like you're living your nightmare," said Mahdi, who fled the country just before the Taliban seized power last year.

Mahdi, currently an ICFJ program director, was part of the first generation of new independent journalists in Afghanistan after the Taliban fell in 2001. Within a decade, the country had more than 100 TV channels and what he called the "freest media ecosystem in the region." It did come with a cost: More than 100 journalists and media workers were killed by Taliban and other militant groups over the last two decades, he said.

Today, hundreds of media outlets have closed and those that remain are under threat should they report critically about the Taliban. Almost all women journalists (84%) are no longer working. The few women journalists who remain as TV presenters must cover their faces, like all women now in Afghanistan. 

"The very being of a female is censored by the Taliban," Mahdi said. "They don't like the faces of women. They are afraid of women – women's voices, women's faces, women's ideas. That is why they are censoring everything." 

At TOLOnews, where Mahdi worked previously, men journalists cover their faces while presenting on TV – a silent protest in support of their women colleagues, said Mahdi, whose remarks were met with applause. 

Holcová described what motivated her to continue an investigation into corruption in Slovakia after her colleague and friend, Ján Kuciak, was murdered in 2018 along with his fiancée, Martina Kušnirová. The enormous street protests that followed, and the desire to hold her friend's murderers to account, kept her and other colleagues going.

"We understood we needed to send a strong message that you can kill a journalist, but you can't kill a story," she said.

In Brazil, Leal said that President Jair Bolsonaro and his supporters have been successful in "killing the credibility of news," and she worries about democracy deteriorating even further. To fight back, Agência Lupa has tried to diversify its coverage, collaborate with other journalistic entities and also work to build media literacy.

"We need to think ahead, and we are trying to do it with education, and supporting our kids and teenagers in it," said Leal, acknowledging that no one knows the solution. "Maybe in some years we will look back and understand what is happening. I don't think we will have this answer in one or two years."

At Bloomberg News, ICFJ also announced winners of its 2022 awards. Watch the full event.