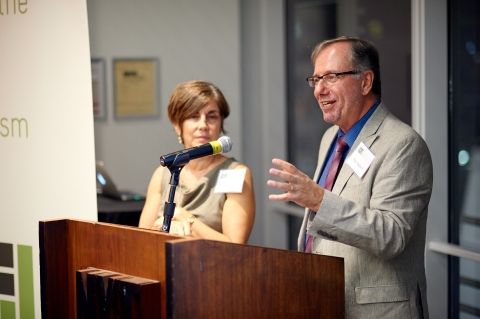 NEW YORK –Science journalist and author Paul Raeburn said that many health initiatives focus narrowly on mothers and children, forsaking the important role fathers play.
As the keynote speaker at ICFJ's Global Health Reporting Awards dinner on Sept. 22, Raeburn, author of "Do Fathers Matter," urged health and science journalists to explore how fathers can also insure the health and wellbeing of families.
Raeburn spoke at an awards ceremony hosted at The New York Times to honor four reporters whose stories show the power of journalism to improve the quality of life of a vulnerable population: mothers and children. The winners were from Brazil, China, India and Russia.
Raeburn noted that his research showed the death rate of infants whose fathers were not around was nearly four times higher than those of infants whose fathers were involved. Yet few scientific and media reports focus on how men can improve maternal and child health, he said.
Danielle Devine, vice president of Corporate External Communication at Johnson & Johnson, presented the awards to the winners. She noted that they report for news organizations that reach a combined audience of more than 11.5 million. She praised the honorees for their outstanding work:
• Mariana Della Barba's report shed new light on the risks of unnecessary C-sections in Brazil, which leads the world in that procedure.
• In response to a story by Yuan Duanduan about how few Chinese women breastfeed, China's National Health Institute vowed to increase the breastfeeding rate from 27 to 50 percent by 2020.
• Priyanka Vora's story revealed an alarming rise in maternal deaths from dengue and tuberculosis in India. In response, the Indian government started testing mothers and infants for infectious diseases – and treating them.
• Olga Komarevtseva's documentary about the use of art therapy for children with HIV/AIDs in Russia highlighted a topic rarely discussed or covered there.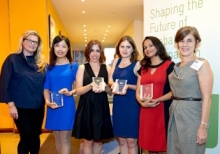 ICFJ President Joyce Barnathan said the goal of the Global Health Reporting Contest, sponsored by Johnson & Johnson, "was to surface stories that illuminate significant health issues facing mothers and children in four of the world's biggest and most-important countries."
An international panel of judges selected the stories from scores of submissions. The winners were invited to the United States for a 10-day study tour. They met leading maternal and child health experts at Georgetown University Hospital in Washington, the Centers for Disease Control and Emory University Global Health Institute in Atlanta, and Columbia University and the United Nations in New York.
"The work of the journalist shapes public opinion," Devine said, when presenting the awards. "It reveals truths that might otherwise go unknown. And it can move people to act." And the Global Health Reporting winners demonstrated that this was certainly the case.
Main image (homepage): CC-Licensed, thanks to Conor Ogle on Flickr.
Related content: Journalists from BRIC Countries Win ICFJ Health Reporting Contest