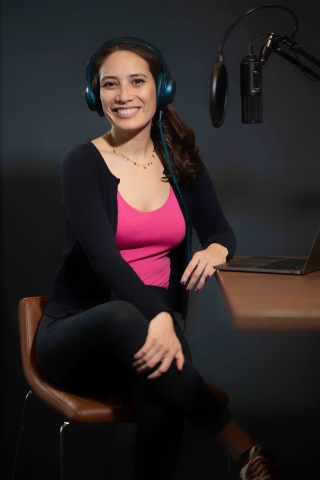 Even before the launch of her Spanish-language podcast, Salud, an enterprising journalist in Boston has attracted support from the city's public health commission for a second season.

The sponsorship will help ICFJ program participant Tibisay Zea and her partner, Boston's El Planeta newspaper, engage Spanish speakers in the U.S. with accurate, relevant health information.
"We are incorporating real human stories to illustrate scientific topics, and I think this is something novel, at least in Spanish-language podcasts," said Zea. "We want our audience to connect with the characters featured in our episodes, while learning from world-class experts on healthcare."

Zea conceived of and developed the podcast as part of the Building Your Brand: Training and Grants for Journalists of Color, an ICFJ program in partnership with the National Association of Hispanic Journalists and supported by the Meta Journalism Project. After participating in a webinar series on professional branding last fall, she was one of 13 grantees awarded $10,000 to develop unique news projects or products that promote their brand as journalists and engage audiences.

Salud has also paired up with Harvard Medical School's Office for Diversity, Inclusion and Community Partnerships, whose experts serve as medical advisors for each episode.

A former staff reporter for El Planeta in Boston and its sister paper, El Tiempo Latino in Washington D.C., Zea is now a freelance journalist and a regular contributor to the PRI program The World, where she focuses her reporting on Latin America and Latinos in the U.S. ICFJ talked with her about the creation of the podcast, which launches next month.

ICFJ: How did you get the idea for the podcast?

Zea: During the pandemic, I was working for a local Spanish-language newspaper in Boston, and our team of reporters saw firsthand the disproportionate impact that COVID-19 had on Latinos, as well as the rampant misinformation on [many] Spanish-language websites and social media platforms. We realized there was a need for reliable information about health care in our Latino community.

We teamed up with WBUR, Boston's NPR radio station, to deliver bilingual stories about the impact of the pandemic on communities of color, and I fell in love with the radio medium. As more and more people are interested in listening to podcasts, I thought this project would be a good idea.
The U.S. has the world's second-largest population of Spanish speakers, and [Spanish is] spoken by more than 500 million people globally. Yet you find a lot of misinformation in Spanish and poor access to reliable health care content, or to the latest insights on biotechnology and medicine. We would like to help fill this gap. This is one of our main motivations.

ICFJ: What did you learn through the webinar series or from your mentor that you applied to creating and launching the podcast?

Zea: I learned the importance of personal branding for journalists in a highly competitive world, and that is the first step: understanding journalists need to pay attention to that. We learned from dynamic and engaging experts about tools to promote our work online. We are also launching a newsletter and a social media campaign and the lessons about [those topics were] very helpful. Also, tips on cybersecurity were quickly implemented.

It was also great hearing from other journalists with good ideas and energy. My mentor [product management expert Kim Bui] and I connected very well. I was able to tell her about my honest concerns and fears about launching a new project, and she always listened and provided advice on anything from picking a good headshot, to  gaining more Twitter followers, to existential questions. I applaud ICFJ's commitment to helping journalists of color tell important stories to the communities they serve.

ICFJ: How did you use the grant funding?

Zea: Starting a podcast is a lot of work, and it can be expensive. With ICFJ's grant I was able to buy basic equipment and software memberships, [pay for the services of] a producer, an editor, a sound engineer and music designer to help me with the first four episodes. I also had a few sessions with a vocal coach who helped me sound more natural. I had professional headshots taken, and we are working on my personal website and a landing page for the podcast. The grant also helped pay for reporting travel expenses, marketing materials, a logo, and a social media campaign that will start in the next few weeks. 
ICFJ: How did you attract additional funding for the podcast?

Zea: The Boston Public Health Commision (BPHC) has been doing a great job at reaching communities of color in a city where housing prices, climate change and food insecurity are having a heavy toll on the health of many Latinos. We invited them to a  presentation, where we explained our reach within the Latino community in the U.S., and the relevance of this project. After the presentation, we sent them our pilot episode about human longevity. For this episode we attended the 102nd birthday of a Guatemalan immigrant in Boston, who says she feels like she's 75. World-class experts on human longevity help us understand throughout the episode what [helps people live] beyond 100, and why Latina women have a better chance [of living more than a century]. After listening to the episode, the BPHC was all in to sponsor "Salud" and help make it a sustainable project.