Today marks one year since Russia's invasion of Ukraine.

From war crimes and disinformation to environmental devastation and the displacement of almost 14 million people, the role of journalists in Ukraine is more vital than ever.

To address increased censorship and crackdowns on independent media and to help inform audiences who lack access to reliable information, ICFJ offered grants to reporters, media organizations and tech innovators to help with their reporting of the war.

With backing from the John S. and James L. Knight Foundation and donors to ICFJ's It Takes a Journalist campaign, a dozen grants were awarded to those covering the war in Ukraine.

Here are the stories of impact created by some of the grantees.

Ukraine'22 -  Diaries of the War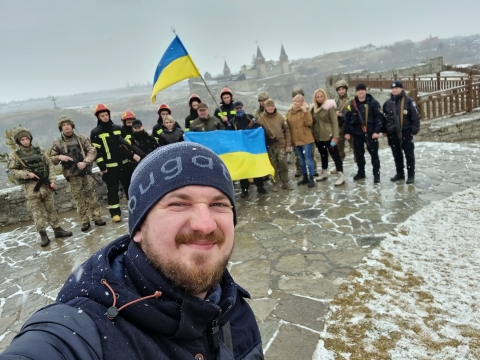 "Ukraine'22: Diaries of War," a ten-episode documentary series, highlights the impact of the war in Ukraine on average citizens and soldiers.

What started off as short videos for television and social networks at the beginning of the war turned into a much larger project.

In spring of 2022, director and producer Andriy Zaiets organized a charity film screening at the Kamianets-Podilskyi International Film Festival, "BRUKIVKA," to collect money to support the Ukrainian military and displaced persons. 

After seeing the impact the film screening had on the community, Zaiets, along with videographers Ivan Trach and Bohdan Zakordonets, decided to create a project that would bring greater international recognition to what was happening in their country. 

"I wanted to tell a bigger story," Zaiets said. "I wanted to tell how artists, musicians, volunteers, soldiers, public figures, and local self-government worked during the war, and how they help preserve Ukrainian statehood and independence."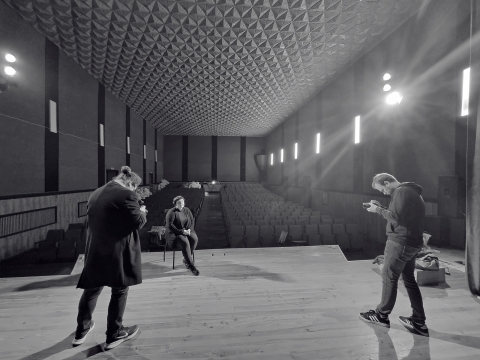 Now published on three different YouTube channels, including one with English subtitles, "Ukraine'22: Diaries of War" has accumulated 1.5 million views. 

The videos were also shown on "Channel 5," a television station in Ukraine, as well as dozens of regional TV channels. These episodes were shown on the air in a TV marathon.

"On Christmas Day…the full-length version of the project 'Ukraine'22: War Diaries' was shown on the air … and I hope all the viewers who were near the TV screens were charged with positive energy from the finale of our film," Zaiets said. "Whether creating videos, documentaries or simply interviews for television, in the end, we have to inspire people."

The online series has won one documentary award and is currently nominated for four others. 

Russian Crimes

Just three days after the full-scale Russian invasion in Ukraine, ISD Group founder Viktor Shkurba asked himself: "How can I help stop the war?"

This question led the ISD Group to begin gathering data on Russian soldiers who had been killed and vehicles that had been damaged, along with where they were found and the military units to which they belonged. 

Despite Russia banning their site, the team was able to break through the propaganda bubble and reached 100,000 Russians with their data coverage.

However, with the progression of the war and an increase in crimes against Ukranians, the team decided to shift their focus on gathering information on Russian war crimes.

"Many great articles and research which are of great historical value are written and we want these materials to not fade on the internet," said Svitlana Myronchuk from ISD Group. "We want to win the war, but also to bring Russia to justice even for the smallest crime committed in our country."

"Russian Crimes" is an interactive map with more than 250 articles, aggregating military and media accounts of the war. 

The site collects data on losses of Russian manpower and equipment, war crimes of the Russian army in Ukraine, and recollections of eyewitnesses who survived the occupation.

With more than 50 videos and 20 photos, the mapping tool also allows users to search information by location, date and material type (article, video or photo).

With ICFJ's support, the team was able to set up their project in just two months, and produced impactful coverage such as the story of a Ukrainian teen with gunshot wounds who drove four people to safety during a Russian attack.

"The amount of the war crimes committed by Russians is significant. The international community must never ignore [or] remain silent about the atrocities," Myronchuk said. "The Ukrainian partners and allies must consider [the] complete victory of Ukraine, and the map lets users understand why and who we fight against."

EcoSolutionsBot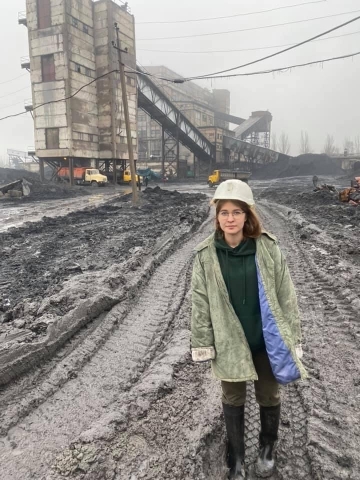 Anastasia Rudenko, founder of Rubryka, a Ukrainian media outlet, developed a project with her team called EcoSolutions, which addresses one often overlooked yet critical outcome of war: environmental crises.

Through their work, this online site provides Ukrainians with crucial information to help them deal with environmental impacts of the war, an issue that could have lethal consequences and last for decades. 

"The scale of (environmental) impact was colossal," Rudenko said. "War reporting may be the number one priority, but … we feel it's important to produce other kinds of stories that are useful to people and help them."

With the launch of the EcoSolutions website, Ukrainians were granted immediate access to vital information on topics regarding water and air contamination, food security and the state of nuclear power plants through the use of a Telegram chatbot.

The chatbot provides step-by-step instructions for specific issues such as the ecological reconstruction of cities and how to prepare for recovery, what to do in case of a nuclear strike, and even how to resuscitate terrain damaged by shelling.