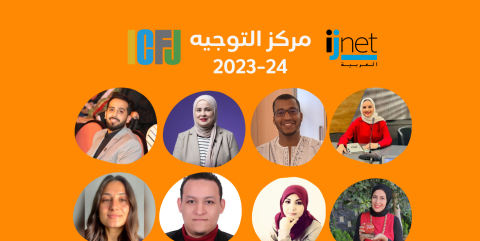 Violations of refugee and migrant rights, conflict, the spread of disinformation, and the effects of climate change are all issues affecting the Middle East and North Africa (MENA) today. They are also issues being met by this year's mentees in the IJNet Arabic Mentoring Center for Media Startups, through innovative reporting initiatives and outlets. 

Now in its 10th year, IJNet Arabic's Mentoring Center helps media entrepreneurs in the MENA region develop critical skills to further their projects. This year's mentees – based in Algeria, Egypt, Jordan, Lebanon, Libya and Yemen – will receive mentorship on development and media sustainability, learn how to drive innovation in their newsrooms, and receive tips on finding new sources of revenue. They will also develop marketing strategies and content plans that meet the needs of their respective audiences.

"Journalists face many challenges today, both globally and in our region," said mentor Ramsey Tesdell, executive director of the Arabic podcasting platform, Sowt. "Finding a balance between independent media and a financially sustainable model is extremely hard. The Mentoring Center tries to face this challenge by offering a space for experimentation [and] learning."

Alongside these challenges, journalists in the region must also keep pace with new technologies, noted mentor Ahmed Esmat, executive director of the Alexandria Media Forum. "The Mentoring Center helps in bridging the technological knowledge gap," he said.

Here are this year's eight mentees and their media projects:
 
Madgeda Zouine, Algeria
Madgeda Zouine co-founded Laha ("For Her," in English), a digital platform in Algeria that produces podcasts and multimedia content focusing on women's issues and rights. 

Zouine, winner of Article 19's 2022 Best Report in a Maghreb Country award and Free Press Unlimited's 2023 Best Media Work (Podcast) award, hopes to improve the financial independence of her startup, while developing content creation skills, honing the outlet's strategic planning, and networking with other initiatives.
Ehab Zidan, Egypt 
Egyptian journalist Ehab Zidan launched al-Mohajer, or "The Immigrant," an interactive platform that specializes in news for and about refugees and migrants. Al-Mohajer publishes content that raises awareness of migrant issues, highlights services for refugees, and reports on human rights.

Through the Mentoring Center, Zidan hopes to enhance his marketing skills and ability to write winning funding proposals, while also helping his outlet reach new audiences.
 
Rahma Diaa, Egypt
Award-winning Egyptian journalist Rahma Diaa launched the Climate School platform, which offers Arabic-language resources on environmental reporting for journalists.

In 2019, Diaa received the Heikal Foundation for Arab Journalism Award and she won  Covering Climate Now's International Most Promising Journalist Award in 2021. She was also recognized  in 2022 with the Suzanne Zaki Award for Journalism Excellence and Agence France-Presse Media Lab's Sustainability and Climate Change Award, and the German Embassy's Cairo Climate Change Forum press competition in 2023.

Through her participation in this year's program, Diaa intends to gain experience in proposal writing, develop a detailed sustainability plan to ensure financial independence, and learn how to create and manage budgets. She also wants to better identify her target audience and how to engage them. 
Raghad Gharibeh, Jordan 
Recognizing the need for coverage of human rights, Jordanian journalist Raghad Gharibeh launched the Jordanian Youth Dialogue platform in November 2022. The initiative publishes multimedia content to engage young audiences on topics related to culture, human rights and politics.

Gharibeh hopes the Mentoring Center will help her create a strategy to improve business performance, enhance financial sustainability and create effective marketing plans.

"We can benefit from the Mentoring Center's knowledge and experience in various fields, helping us develop our project and provide the best service to Jordanian youth," Gharibeh said.
Valentine Nesser, Lebanon
Based in the city of Tyre in southern Lebanon, Valentine Nesser manages Silat Wassel, a news site that covers local elections, women's and youth issues, corruption, and the diversity and history of the region, among other topics. 

"I hope to gain more skills that will help me produce valuable content that serves our project," she said. Nesser also plans to exchange experiences and ideas with colleagues from around the Arab world and acquire new journalism tools during her time with the Mentoring Center.
 
Ruwaida al-Arabi Fallag, Libya
Libyan journalist Ruwaida al-Arabi Fallag's project, She Checks, specializes in combating AI-generated disinformation. The platform's target audience is mothers in Libya and the wider Maghreb region, producing content focused on fact-checking through videos and articles. 

"We believe that the Mentoring Center will allow us to draw the features of our startup professionally by enhancing our skills in management, ensuring the project's continuity, [and] developing our funding-related skills," Fallag said. "The Mentoring Center Program is one of the most important programs in the Middle East. It contributed to launching many successful people. We are proud of reaching this stage."
 
Lahcen Chuis, Morocco
From Morocco, Lahcen Chuis launched Dialogue for Democracy, a platform that discusses and shares information on issues of public interest, and seeks to enhance the culture of dialogue, democracy and citizenship in the region.

During the Mentoring Center, Chuis hopes to gain support and guidance on how to increase the platform's impact, reach a wider audience, and develop a communication and marketing strategy.

"[The Mentoring Center] will help me better understand how to introduce media content and raise awareness of human rights issues and democracy in the region," said Chuis. "This could have a positive impact on my local community."
 
Assem al-Shameri, Yemen
In Yemen, Assem al-Shameri launched the Shabab House Foundation for Media and Cultural Development, which produces visual, written and audio content covering a wide range of topics including youth, climate, politics, and cultural and social issues.

"[Shabab House] is an emerging platform that manages to reach a wide segment of young people," said al-Shameri. "The benefit of participation will not be limited to us as a platform or a foundation, but will be reflected on many young people and emerging platforms as we work on sharing gained knowledge to have a real impact."

Al-Shameri intends for the Mentoring Center to assist with financial sustainability for his outlet, which has survived for two years to date without external funding. 
 
This article was originally published on IJNet's Arabic site and translated by Lina Elshrief.