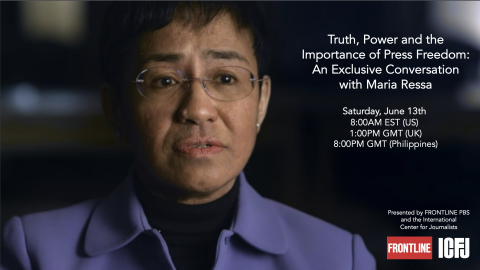 Please join FRONTLINE and the International Center for Journalists for a global conversation on the importance of the freedom of the press, with award-winning journalist, Maria Ressa.
FRONTLINE Presents a Virtual Event in Partnership with the International Center for Journalists
Saturday, June 13th
8:00 AM EST (US)
1:00 PM GMT (UK)
8:00 PM PST (Philippines)
Journalism is essential to the function of democracy, informing and empowering citizens, yet journalists worldwide have become embattled for covering the news. In the Philippines, President Rodrigo Duterte has cracked down on news outlets critical of his brutal war on drugs. A top target: Maria Ressa, chief executive of independent news site Rappler, who is currently facing jail time under a cyber libel law, and is the subject of an upcoming FRONTLINE documentary.
On the eve of her court verdict, Ressa leads a vital conversation on reporting, truth and its impact on democracy.
FEATURED SPEAKERS:
Maria Ressa, CEO & Executive Editor, Rappler
Ramona Diaz, Film Director,"A Thousand Cuts"
Raney Aronson-Rath, Executive Producer, FRONTLINE
Moderated by Dr. Julie Posetti, Global Director of Research, International Center for Journalists (ICFJ)
Ressa is the 2018 recipient of the ICFJ Knight International Journalism Award. Read more about Ressa's defense of press freedom here: https://to.pbs.org/3heUTZO.
This is a free virtual event that will be hosted on Zoom for audiences globally. You must RSVP in order to receive the Zoom link, which will be included in your email confirmation. ICFJ also will stream it on Facebook Live. The conversation will include clips from "A Thousand Cuts," and the full film will be accessible for those in the Philippines for 24 hours leading up to the verdict.
You can learn more about "A Thousand Cuts" at athousandcuts.film.
Facebook: @athousandcutsfilm
Twitter: @_athousandcuts
Instagram: _athousandcuts
Connect on Twitter: @mariaressa, @CineDiaz, @raneyaronson, @julieposetti, @ICFJ, @frontlinepbs