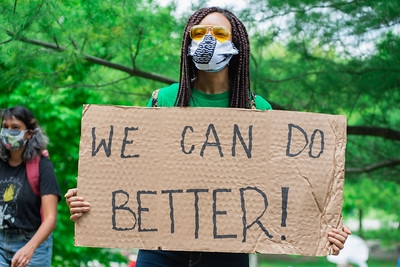 The International Center for Journalists is committed to racial justice. The horrific killings of George Floyd, Breonna Taylor and Ahmaud Arbery are the latest in a long history of discrimination against black Americans. Over the years, journalists have played a key role in bringing about meaningful change. We must make sure we step up and help put an end to structural racism.

A journalist's job is to expose social inequities — and, we hope, prompt much-needed institutional reforms. In the U.S., this means more than covering protests about police brutality. It means focusing on a widespread problem affecting all aspects of U.S. society, including income inequality, educational inequality, health-care inequality. As we all know, the COVID-19 pandemic in the U.S. has affected people of color to a far greater extent.

As an international journalism organization, we must confront the broader issues behind this story. Racial injustice is a plague that springs up all over the world. The challenge for newsroom leaders is to keep the topic at the center of public attention after the headlines fade away. And the challenge for us at ICFJ is to enable deeper, richer coverage of institutional racism and how to end it.

Setting racial justice as a priority area of sustained media coverage is essential. The story has grabbed all the headlines in the U.S. now, but what happens when the protests die out, as they have in the past? Our job is to make sure the spotlight doesn't turn away this time. If the spotlight is off, then we will simply wait for the next victim. 

Journalists have helped keep this story in front of the public. They have helped to deepen the conversation and provide context beyond what's on social media. Those who set the editorial agenda must now make sure the coverage continues, that it is deep and nuanced — and that officials are held responsible for the major reforms that must take place to end widespread discrimination. Step by step, issue by issue, we need to stay on this story.

We have long been aware that the ranks of journalists, from top to bottom, must be more diverse. Not only is it important to ensure all people have equal opportunities but diverse newsrooms also produce better news coverage. They bring to the fore perspectives and voices that are critical to surfacing the truth. ICFJ is committed to promoting greater diversity. 

We do our best to provide resources, experts and programs to help journalists excel around the world. In the past months, we've focused on COVID-19 in webinars and on the International Journalists' Network (IJNet). We'll make equally ambitious efforts to foster in-depth reporting on long-festering inequities. We are eager to hear your suggestions on how we can serve you better. 

On Monday, ICFJ condemned the repeated attacks against journalists covering protests in the U.S. They have been met with police tactics that seemed unimaginable not long ago. We also recognize the double burden journalists of color bear — attacked for both their profession and the color of their skin. The use of rubber bullets and pepper spray by police forces was a chilling reminder of the dangers that journalists all over the world face in uncovering the truth. 

This is more than just a national crisis. Others around the world are watching closely. The ICFJ family — staff members, former participants, trainers and supporters — are deeply affected. Some are covering the protests. They are doing so at a time when many news organizations are laying off staff, even though it is obvious that the work of journalists is needed as never before.

Reform is needed to achieve real change. News organizations can do better. ICFJ can do better. We must. We will.