NPR Correspondent Says 'America First' Should Not Impede Coverage of International News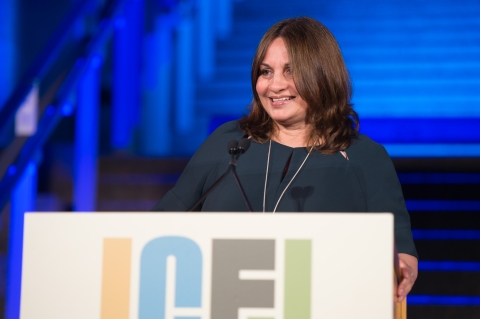 National Public Radio correspondent Soraya Sarhaddi Nelson, accepting a top award for international reporting, urged U.S. news organizations to pay more attention to global events even though the trend is to do the opposite in the era of "America First."
Nelson spoke after receiving the Excellence in International Reporting Award from the International Center for Journalists (ICFJ) for her stellar reporting on the daily experiences of people living through turmoil in Afghanistan, the Middle East and North Africa.
"There's a lot happening internationally that Americans should be paying attention to, be it the growing number of authoritarian leaders stripping away democracy or developing nuclear arsenals, or terrorism, ethnic cleansing and distant warfare that's on the rise but rarely makes headlines," she said.
Nelson cautioned that millions of refugees will continue to flee toward the West "even as laws are passed and walls are built to stop them."
"In an ever-more interdependent world, these events affect us," she said. "They have an impact on the way we work, how we interact with our neighbors in our internationally diverse nation, as well as how safe we feel at home and on our streets."
Addressing an audience of nearly 600 media leaders and luminaries, Nelson paid tribute to colleagues who died in pursuit of important global stories, including NPR's David Gilkey and Zabi Tamanna, New York Times reporter Anthony Shadid and Boston Globe correspondent Elizabeth Neuffer.
"They would be happy to hear that so many of you still care about what's happening outside our borders, even if 'America First' once again echoes in the halls of the nation's capital," she said.
Nelson is now based in Berlin and covers central Europe. Her stories are heard on NPR's award-winning programs, including Morning Edition and All Things Considered. She previously covered the Arab world from a base in Cairo, and opened NPR's Kabul bureau.
Nelson said she remains "in absolute awe of people's humanity under the most difficult of circumstances." She singled out an illiterate Afghan woman named Hanifa who was forcibly married at 16 to a man in Pakistan who brutally raped her every night. Nelson said Hanifa, initially crushed by that abuse, was healed through working with abused puppies at an animal shelter. Hanifa now climbs mountains, has run a marathon and, at age 25, is learning to read and write.
"Most international news isn't so uplifting, much like the political trends I've been reporting on," Nelson said. "In Europe, voters in more and more countries appear to be forgetting the lessons of the last century as they turn to nationalism and xenophobia to combat real and imagined economic and societal woes."
Nelson, lamenting that the space U.S. media dedicate to international coverage is shrinking as America turns inward, issued a plea to the audience: "I encourage you, news managers who are gathered here tonight, to resist that trend."
Watch a tribute video about Nelson. Read her full remarks.