In his final State of the Union address in January, President Barack Obama called on the world to end malaria. On Feb. 9, he released his FY17 budget proposal, which contained a $71 million increase for the President's Malaria Initiative (PMI), bringing the total to $745 million (and an additional $129M from redirected Ebola funds). He has also requested $1.35 billion for the Global Fund to Fight AIDS, Tuberculosis and Malaria –making the U.S. government a leader in fighting this preventable and treatable disease.
What pushed malaria to the top of the president's health and development agenda? Why the intense focus right now on the world's oldest and deadliest disease?
We are at a critical juncture in the malaria fight. For the first time in history, the end of this disease is in sight. Since 2000, progress in the fight against malaria has been unprecedented, with the most stunning accomplishments occurring in sub-Saharan Africa, which carries about 90 percent of the global malaria burden.
In recognition of this historic moment, the International Center for Journalists (ICFJ) and Malaria No More created a new program called "Covering Malaria Elimination in Africa: A Fellowship for U.S. Journalists." The program gave seven U.S. journalists the opportunity to travel to Tanzania for a five-day study tour. Journalists came away with a deeper understanding of what strategies have led to the progress on malaria, and what it will take to end the disease for good.
The United States is a global leader in the fight against this disease, spending more than $1 billion a year on malaria through PMI, the Global Fund, and research and development efforts. African leaders are also playing a key role. The African Union is set to endorse a roadmap for elimination on the continent by 2030.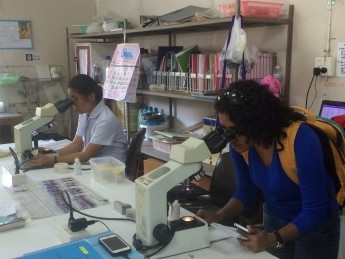 From 2000 to 2015, Tanzania has reduced malaria incidence by between 50 percent and 75 percent.
The reporting fellowship took place May 8-13, 2016. During the tour, participants visited clinics and treatment centers, met locals who are most affected, attended briefings with health officials and disease experts, heard from organizations that are working to control or eliminate the disease, and talked with local journalists covering the issue.
Participants produced stories based on the information gathered and contacts made during the tour.
Program Dates:
5/8/2016 - 5/13/2016