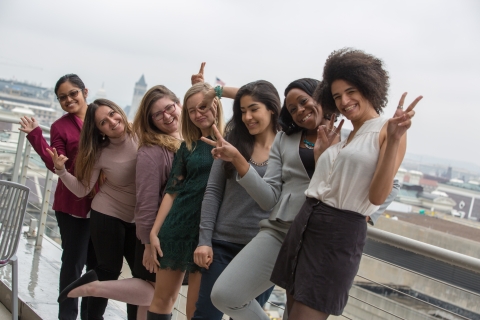 A dozen years from now, millennials and the iGeneration will be living with the consequences of the decisions and policies made today. Are you a passionate student journalist interested in tackling critical development issues, such as climate, immigration, inequality, or other topics that will affect your generation's future? If so, we invite you to apply for this prestigious reporting fellowship, The World in 2030, headquartered at the United Nations Foundation in Washington, D.C.
The International Center for Journalists (ICFJ) in partnership with the United Nations Foundation, has designed a special reporting program February 23-25, 2018, that will offer 15-20 student reporters an unprecedented opportunity to learn about and report on the UN's agenda to achieve social and economic equity by 2030.
Participating students will gain unparalleled access to UN global experts and policymakers; training and mentoring to produce a high-quality, multimedia-rich reporting project; and site visits to top local newsrooms.
About the Program
Based at the United Nations Foundation's D.C. headquarters, students will attend high-level briefings, interview global experts and contribute to interactive roundtable discussions on topics including U.S.-U.N. relations, global climate and development and U.S. action on the U.N's sustainable development agenda for 2030.

Teams of four to five students will produce a multimedia-rich story package related to the sustainable development goals. These stories will be published on ICFJ's International Journalists' Network website, and will help enhance students' portfolios and resumes.

During a reporting tour, students will visit major publications with strong digital teams, such as The Washington Post, National Geographic, Politico and National Public Radio.

Student publications and University faculty will have access to a $3,000 reporting fund to produce stories related to the SDGs. ICFJ will cover all transportation costs and meals.
Student Project Topics  
Students will explore one of these topics in-depth:
Climate
Immigration
U.S. and the World
Women and Girls
Who Can Apply?
Applications for this program are closed.
Students enrolled in an accredited four-year institution in the Baltimore/D.C. metro area
Students who are studying journalism or communications
Graduate and undergraduate students are eligible
How do I apply?
Interested candidates must complete a brief Fellowship application. Applicants should include:
A resume/curriculum vitae
An optional 250-word essay outlining the reason for applying to the program and hoped-for outcomes
Agreement to participate in the in-person training program in Washington, D.C. Feb. 23-25, 2018
Program Dates:
2/2/2018 - 3/31/2018